Building a Natural Life Should be Easy: Start Here
Disclosure: Some of the links in this article are affiliate links, which means that if you purchase through those links I will receive a small commission. For example, as Amazon Associate, I earn from qualifying purchases. If you decide to use these links, thank you so much for your support!

---
Are you thinking about switching to all natural products? Then you're in the right place!
Making the switch doesn't have to be expensive or complicated.
When I first started looking for natural products for my home and personal use I felt completely lost when trying to figure out what products were safe and which homemade products actually worked.
After a few years of trying out natural products and making my own, I have discovered what works and what doesn't. So, I have created a site full of articles with natural products that I have tried and love.
So, are you ready?
Because it's time for you to start your switch to natural products like a pro!
You may be asking, "where do I even begin?"
The simple answer is – just choose one thing. Because every single switch you make can truly have a big impact on your health.
For more information about how natural products can improve your health and how to choose natural product please read this: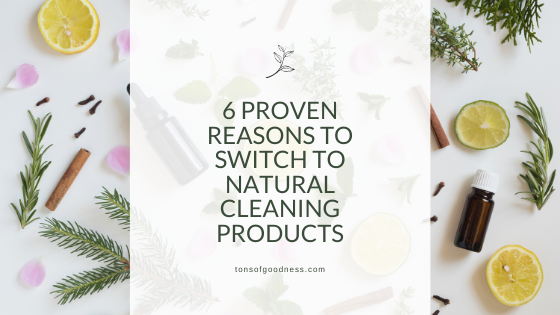 If you would like to switch out your conventional products in the order that I did, just follow along with these steps.
Natural Products for Personal Use
Every switch you make is a great step toward lessening the number of toxins you and your family are exposed to. Personally, I started by switching out personal products first. These include products like toothpaste, deodorant, body wash, facial toner, etc. I also discovered an amazing foaming hand soap recipe that I now use in all of our soap dispensers at home.
Natural Products for Home
I know how important it is for my health and my family's health to use products free of hazardous chemicals. So, after switching out our personal products I began to find ways to switch out our cleaning products with natural options.
The first thing I did was change our laundry detergent and fabric softener. Then, I switched out all of our cleaning products from air fresheners to all-purpose spray. These are the natural products that we are using now:
---
Ideas from Pinterest
This is a link to my Essential Oil DIY board on Pinterest. This board features pins about how to use essential oils to make personal and home products. I am continually adding to this board, so make sure you click Follow!
---
How to Choose a Safe, Natural Product
If you choose to purchase a store-bought natural product, opt for products certified by a third party such as Green Seal or EPA's Safer Choice.
You can also search for the product in the Environmental Working Group (EWG) database. This database provides rankings for more than 2,500 products. These are links to specific pages to check your products:
---
How to Choose Your Essential Oil Brands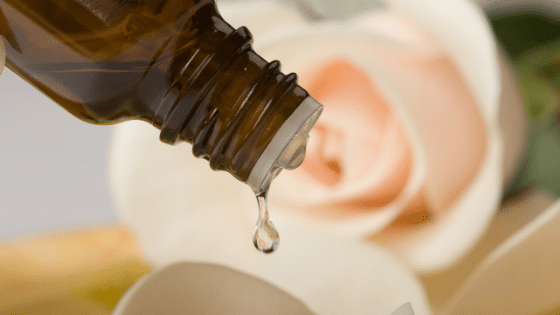 Most of the natural products that I use are made with essential oils. This is because they offer a natural way to support your health and wellness. And of course, they smell amazing!
However, if you use essential oils that are not high-quality, they can cause issues like irritation and allergies. And the essential oils won't produce the benefit as you would expect, which will just be a waste of money for you.
For these reasons, it's critical that you use quality oils that are not compromised by added synthetics, contaminants, or cheap fillers.
Unfortunately, there is not an accepted standard or regulatory body that ensures essential oil quality, so essential oil companies must regulate themselves when it comes to producing pure, safe oils.
There are four things that you can look for to make sure you are purchasing high-quality essential oils.
What to Look for When Buying Essential Oils
The company provides lab test results for each batch of essential oil. The two primary tests that should be completed include the gas chromatography test and the mass spectrometry test.
Look for oils that are organic as a first choice. Any pollutants on the plants can be more concentrated in the essential oil. This is especially important for citrus essential oils, as they are traditionally heavily sprayed with pesticides.
The company works directly with essential oil distillers and practices sustainability.
The label should include the botanical name, country of origin, distillation date and/or expiration date, chemotype (if applicable), and "Keep Out of Reach of Children" statement.
Words like "pure," "natural," and "therapeutic grade" hold very little value because there is no standardized definition of purity.
To help you get started, this is a list of suppliers that I have used and love:
Young Living
Young Living offers an extensive line of essential oils and essential oil-infused, plant-based products. They have been distilling essential oils for over 22 years from their own farms, partner farms, and Seed to Seal-certified suppliers. Their proprietary Seed to Seal process guarantees the purity that you and your family deserve.
The best way to get started with Young Living is to purchase a starter kit packed with Young Living Favorites. You can find out more by clicking here: How to Get Started with Young Living
Plant Therapy
Plant Therapy was founded in 2011 with a mission to provide quality, affordable essential oils. They saw a need for high-quality essential oils that would be attainable to the customer at an affordable price – and that became part of the company's core.
Every bottle of Plant Therapy essential oil goes through rigorous testing, meaning that you can trust that what they claim is in their essential oils actually is. You can find a batch report for every essential oil that you are thinking of purchasing.
They provide singles, blends, and a line of kid-safe oils. A great kit to get started with if you choose Plant Therapy is their 7 & 7 Kit. It includes their top 7 single oils and their top 7 blends.
REVIVE Essential Oils
REVIVE essential oils are sustainably harvested from around the world and brought to the United States for quality testing before bottling. All of REVIVE's Oils are free from any additives, adulterants, fillers, synthetics, or dilutions.
REVIVE provides kits, singles, blends, and roll ons. A great way to get started with REVIVE is with their starter kit, which includes 10 of their most popular singles and blends.
Use code GOODNESS10 for 10% off your first order, or 15% for orders over $100.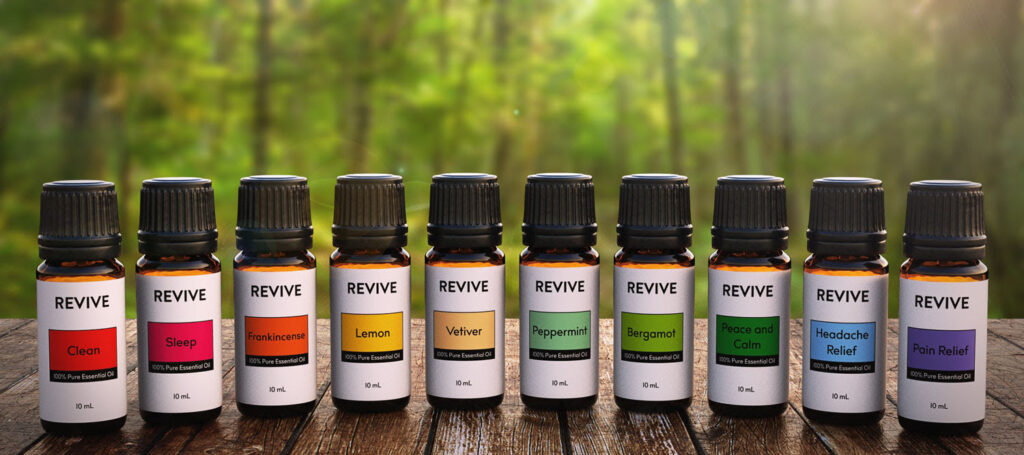 ---
Supplies and Accessories to Make and Use Your Natural Products
When I first started using essential oils I felt completely lost and frustrated when trying to figure out where to find the various essential oil supplies and accessories that I needed.
I spent so much time to find the best bottles, carrier oils, and everything else that I needed to use my essential oils daily. So, I have created a guide of supplies that I have purchased and love.
This guide is an easy go-to reference guide so that you have the supplies and accessories all in one place for the next time you need to make a purchase for your essential oil DIY's.
Enter your name and email address below and I'll send you the FREE PDF version of this 13 page guide!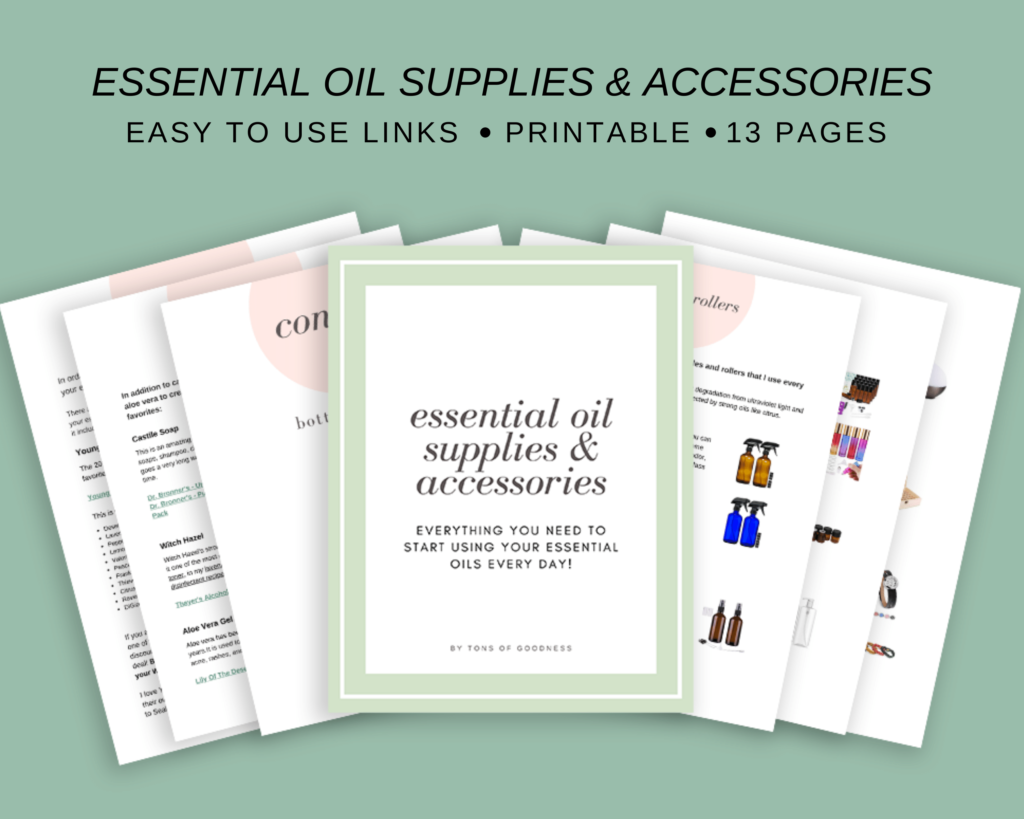 Sign Up Now!
Subscribe to the newsletter and receive your free guide!
I hope this information helps you with switching to natural products. If you have any questions please feel free to email me at kat@tonsofgoodness or comment below. I'd love to hear from you!
How to Switch to Natural Products