The Best Fall Essential Oil Blends to Get You Psyched For the Season
Disclosure: Some of the links in this article are affiliate links, which means that if you purchase through those links I will receive a small commission. For example, as Amazon Associate, I earn from qualifying purchases. If you decide to use these links, thank you so much for your support!

---
When the leaves begin to turn beautiful shades of orange and red and you finally get to wear that cozy sweater, it's the perfect time to diffuse your fall essential oil blends.
If you love comforting scents that remind you of warm apple cider, pumpkin pie, and the crisp, woodsy air of autumn, you're going to love bringing these fall scents into your home.
In this guide you will find a list of the perfect essential oils for fall, easy to make essential oil blends, ready-made essential oil blends, and where to purchase your essential oils.
So let's get started!
Best Fall Essential Oils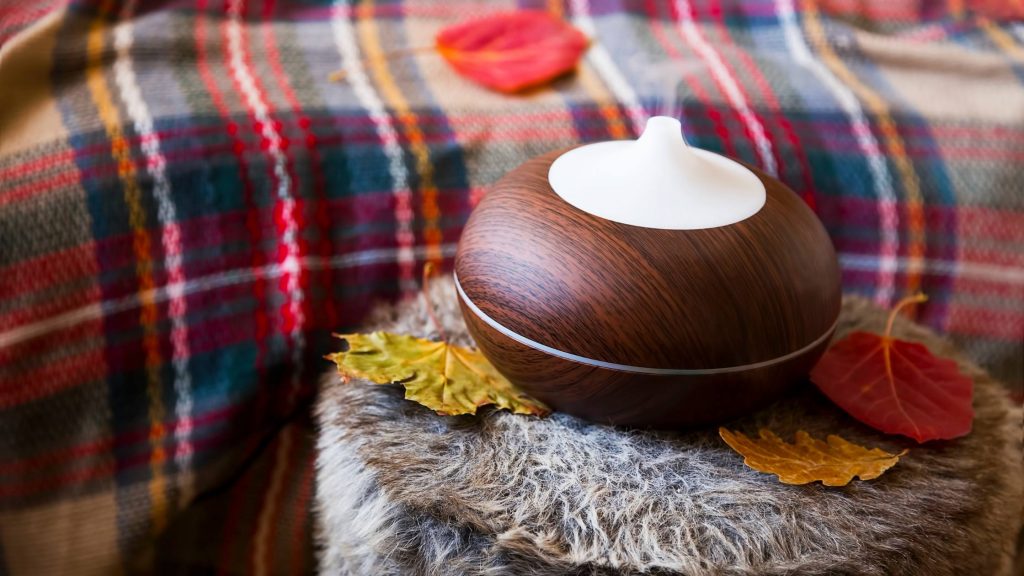 These are by far my favorite essential oils for fall. Some are woodsy, some spicy, and some crisp. And they are all perfect for autumn!
Cardamom – sweet, spicy scent that is stimulating and uplifting.
Cedarwood – slightly sweet, woody with hints of both balsamic and spicy.
Cinnamon – warm, spicy scent with a hint of sweetness.
Eucalyptus – a fresh, crisp scent with woody undertones
Ginger – fresh, warm and spicy/woody lemon scent.
Nutmeg – rich, sweet, spicy-woody scent.
Star Anise – warm, spicy, licorice scent that's comforting and uplifting.
What's great is that while these oils smell amazing, they each have unique health and wellness benefits.
For example, Eucalyptus globulus has a fresh, crisp scent AND it is shown to be beneficial for relieving symptoms of bronchitis, colds, and coughs.
If you'd like more information about the health and wellness benefits of these oils, just click on the name of the essential oil above. The link will take you to that essential oil's page at Plant Therapy. There, you will find specific information about its uses and directions. Or, you can always ask me if you have any questions. I'd be glad to help!
Best Fall Essential Oil Blends
Like I mentioned, you can diffuse these oils on their own. Or you can try one of these fall essential oil diffuser recipes. And feel free to experiment! One of the fun things about essential oils is that you can explore and see what works for you!
Pumpkin Pie Spice
3 drops Cinnamon
1 drop Clove
1 drop Ginger
1 drop Nutmeg
---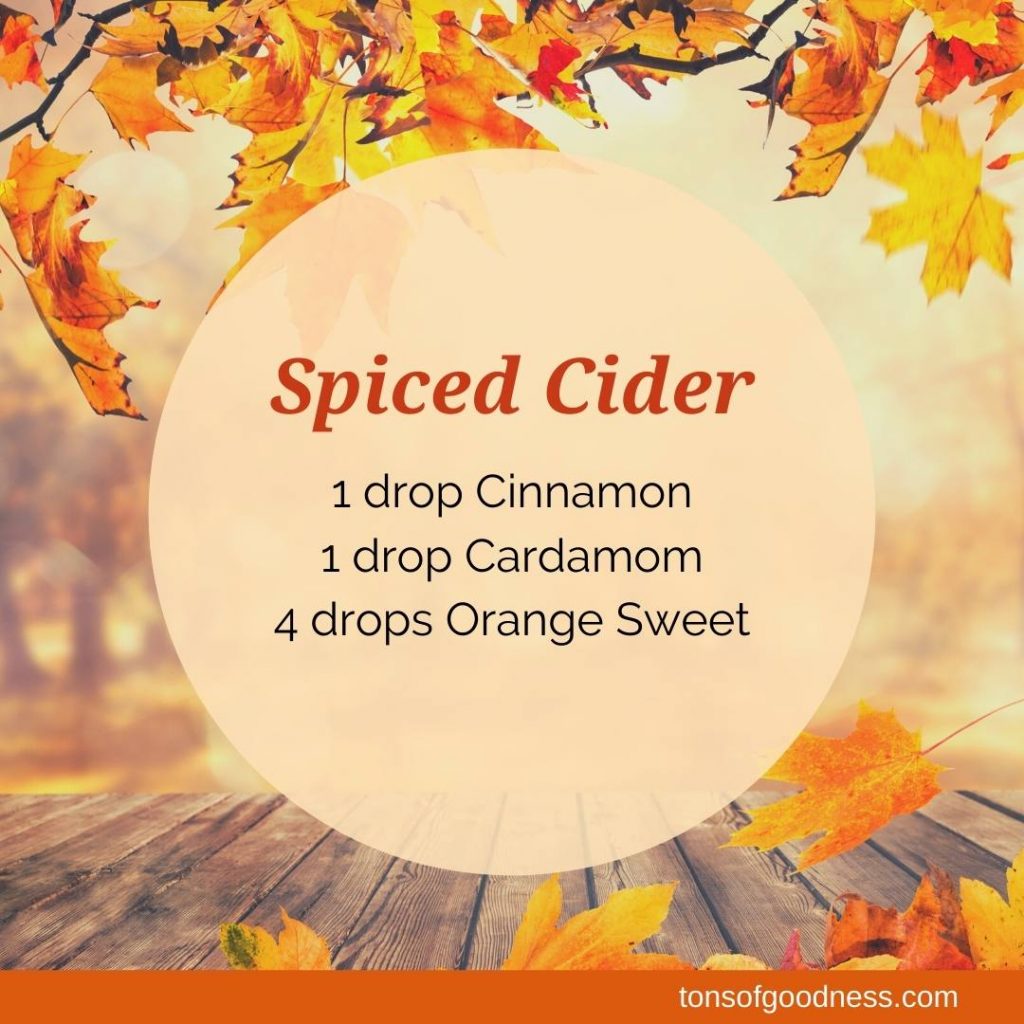 Spiced Cider Recipe
1 drop Cinnamon
1 drop Cardamom
4 drops Orange Sweet
---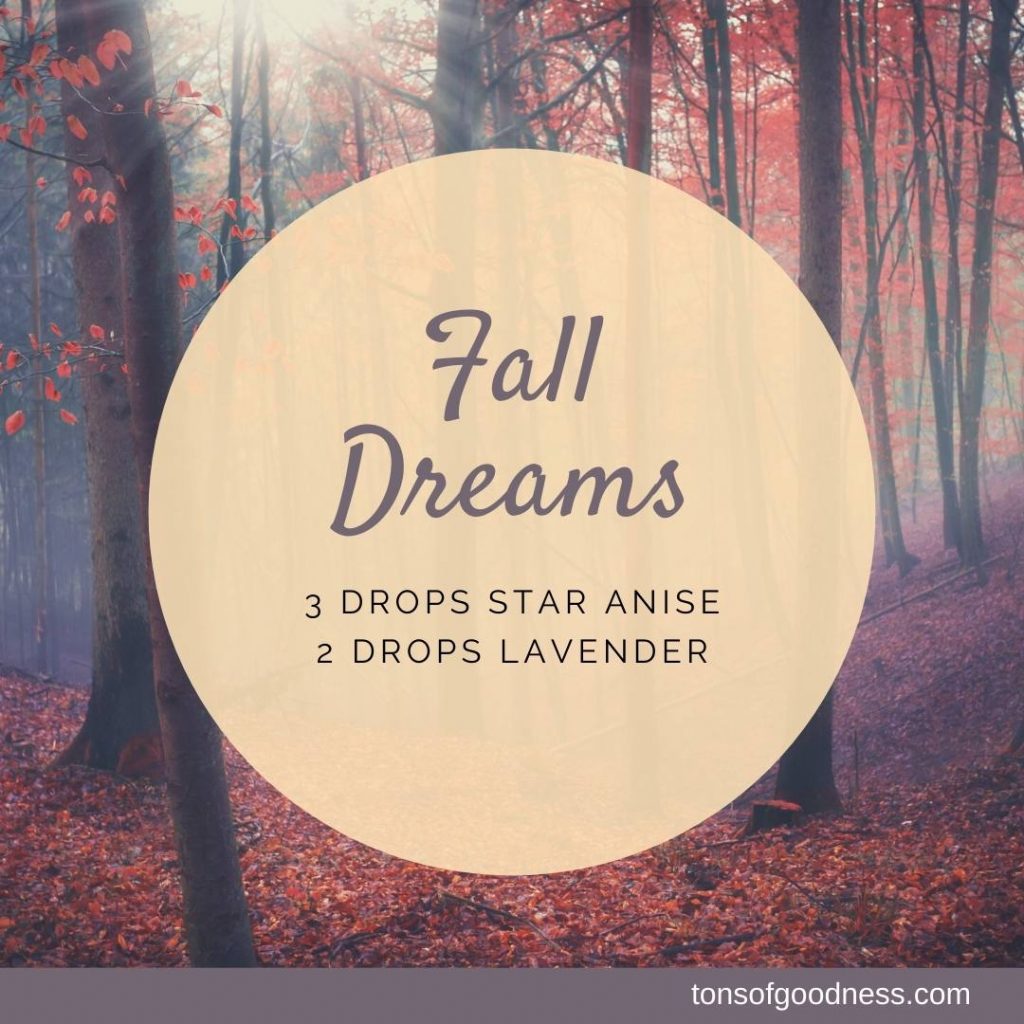 Fall Dreams Recipe
3 drops Star Anise
2 drops Lavender
---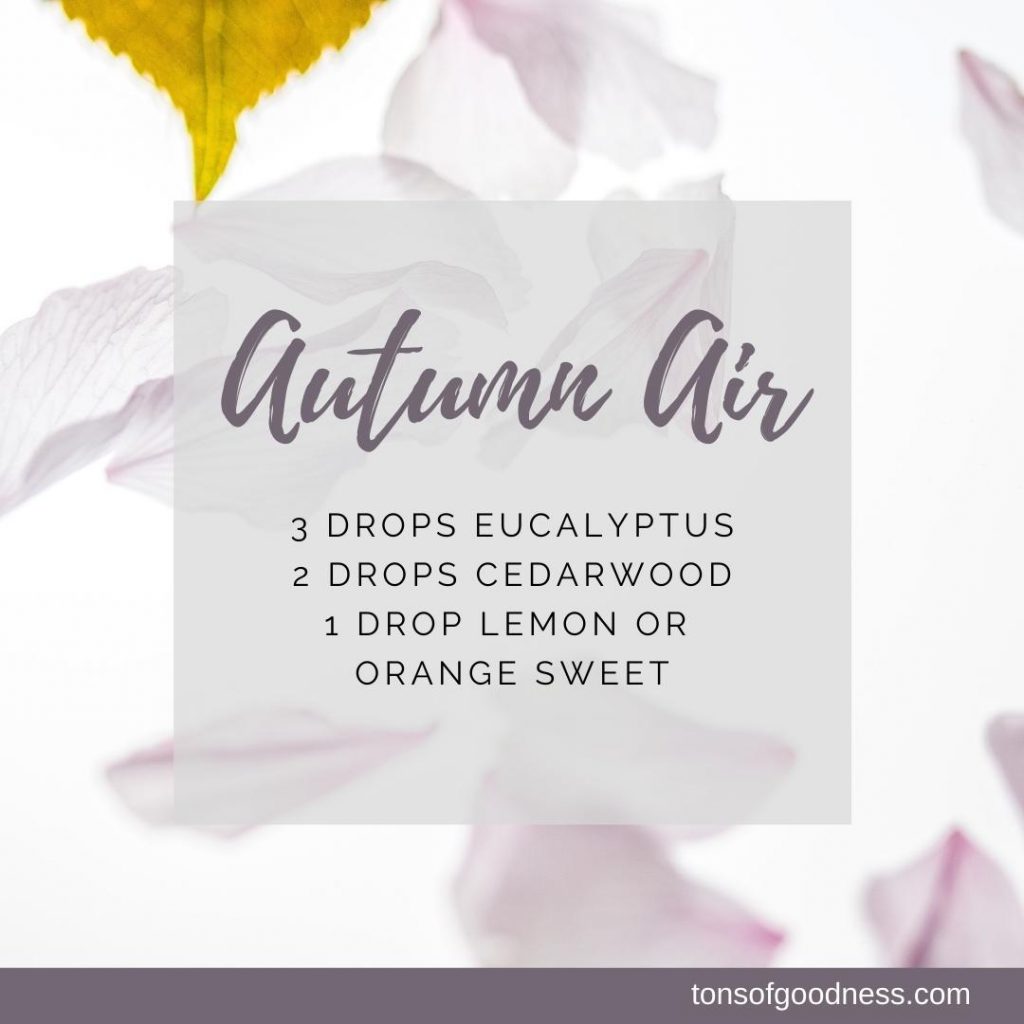 Autumn Air
3 drops Eucalyptus
2 drops Cedarwood
1 drop Lemon or Orange Sweet
---
Ready-Made Essential Oil Blends
If you don't have many essential oils on hand, or just like the convenience of ready-made blends, I have found some amazing options for fall!
Plant Therapy has created a line of seasonal essential oil blends, fall-scented body care, and a delicious maple lip balm.
You can shop the fall blends individually, build your own three-oil set, or score the complete six-oil collection with their All the Fall Set.
Plant Therapy's Fall Blends
Here are more details about each of these seasonal blends:
Autumn Breeze: Autumn Breeze includes the bright, uplifting scent of Sweet Orange, the herbaceous aroma of German Chamomile CO2, and the sweet, warm bouquet of Vanilla and Copaiba. These aromas create an amazing blend that is the perfect choice when you want to bring the essence of autumn indoors.
Fall Rain: The crisp, coniferous scent of Fall Rain reminds us of rainy days spent in the forest. Therapeutically, Fall Rain is the perfect blend to help ease breathing, calm the mind and body, and encourage a restful night of sleep.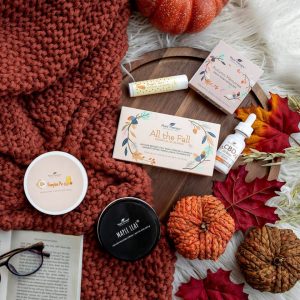 Fireside Flannel: With the crisp, fresh notes of Juniper Berry, Fir Needle, and Eucalyptus Dives, and the grounding notes of Virginian Cedarwood, Frankincense Carterii, and Vetiver, this blend is reminiscent of nights spent next to the campfire. Orange Essence, German Chamomile CO2, Neroli, and Ylang Ylang Extra provide a subtle sense of sweetness.
Harvest Moon: Bergamot provides a subtle hint of sweetness and Cedarwood amps up the woodsy forest aroma. Fir Needle and Juniper Berry give this blend a crisp, clean mountain air feel, while Cardamom shines through bringing warmth. When diffused, this blend may help keep airways clear during times of seasonal illness. Harvest Moon can also help soothe sore muscles due to overexertion.
Maple Leaf: The sugary sweet notes of Vanilla and German Chamomile CO2 are reminiscent of warm days spent hiking in autumn. Cedarwood and Sandalwood help ground the blend with a subtle woodsy and sweet note. To top it off, Cardamom brings a touch of spice to this sweet and warm aroma that boasts subtle hints of maple.
Pumpkin Pie: Enjoy the sweet, spicy aroma of one of the season's best pies. This mouthwatering blend will have your home or office smelling like your favorite fall treat.
Discount Code
Add three of your favorite fall blends to your cart at PlantTherapy.com to get a 10% off. Use code MY3SET to get the discount as well as a white set box with the Autumn Memories Set Sleeve. Offer good until 11/03/2020.
How to Use Your Essential Oil Diffuser
I have been through a couple of essential oil diffusers and have learned some tips along the way. I want to share these with you so that you can get the most out of diffusing your essential oils and keep your diffuser running like new.
Add Your Water – Fill the water reservoir to the fill line. It's important not to overfill your diffuser. Overfilling can cause your diffuser to not work at all, or water may spurt out. I always use purified water or spring water to make sure that I don't get build up on my diffuser from the minerals in tap water.
Add Essential Oils – The essential oil blend recipes are for 100 mL of water. If you have a larger diffuser just double or triple the recipe depending on the size of your water reservoir. Remember that it's best to start with less and build from there. When adding essential oils to your diffuser, make sure not to get the oils on your hands. If you do, just wash your hands. Oils are natural, but they are potent…and it hurts if you end up getting oil in your eyes.
Turn on the Diffuser and Enjoy! If you plan on diffusing for long periods of time you could use a low setting so that your oils last longer and you have to refill less often. This is the diffuser that I love and use: 5 in 1 Ultrasonic Essential Oil Diffuser.
Child and Pet Safety – Practice caution when diffusing oils around small children and pets. They can be more sensitive to essential oils than adults. It can help to place the diffuser high on a shelf to make the aroma subtle. Or diffuse for short periods of time.
Clean the Diffuser – Cleaning your diffuser is necessary, since oil residue can build up on the inside and affect the performance of your diffuser. After every use, empty the water reservoir and wipe it down. If there is buildup, dip a cotton swab in rubbing alcohol and swab to clean all areas of the diffuser.
Where to Purchase Essential Oils
I recommend Plant Therapy essential oils because they are high-quality and affordable. Every bottle of Plant Therapy essential oil goes through rigorous testing, meaning that you can trust that what they claim is in their essential oils actually is.
They provide singles, blends, and a line of kid-safe oils. A great kit to get started with if you choose Plant Therapy is their 7 & 7 Kit. It includes their top 7 single oils and their top 7 blends. Shop Plant Therapy by clicking here.
Wrapping it Up
I hope you enjoy these fall essential oils!
What are your favorites? Let me know in the comments!
Even more essential oil recipes:
The Best Essential Oils for a Cough
DIY Lavender Vanilla Pillow Mist: Relax and Fall Asleep Fast
DIY Natural Air Freshener & Disinfectant Spray Recipes
---
Supplies and Accessories to Make and Use Your Natural Products
When I first started using essential oils I felt completely lost and frustrated when trying to figure out where to find the various essential oil supplies and accessories that I needed.
I spent so much time to find the best bottles, carrier oils, and everything else that I needed to use my essential oils daily. So, I have created a guide of supplies that I have purchased and love.
This guide is an easy go-to reference guide so that you have the supplies and accessories all in one place for the next time you need to make a purchase for your essential oil DIY's.
Enter your name and email address below and this FREE PDF guide will be sent to your inbox!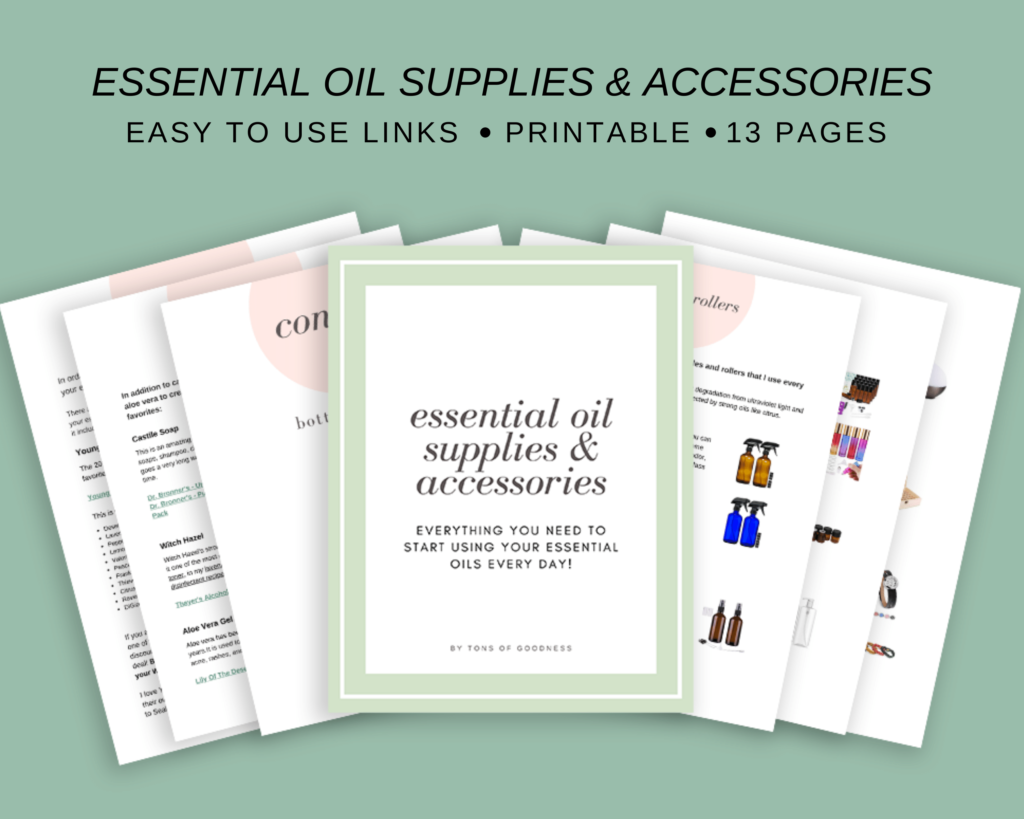 ---
Are you thinking of switching to all natural products? Check out this guide to easily switch to all natural products for your home and personal use. Making the switch doesn't have to be expensive or complicated. And every single switch you make can truly have a big impact on your health and well-being.
Essential Oils to Replace Your Fall Candles