6 Proven Reasons to Switch to Natural Cleaning Products
Disclosure: Some of the links in this article are affiliate links, which means that if you purchase through those links I will receive a small commission. For example, as Amazon Associate, I earn from qualifying purchases. If you decide to use these links, thank you so much for your support!

---
Have you thought about switching to natural cleaning products for your home? Discover six proven reasons why it's so much better than conventional cleaning. You will want to make the switch today!
1. Cleaner Air in Your Home
Some of the most dangerous toxins reside in our cleaning products. For example, researchers at the University of Washington tested a variety of popular household cleaning products. These included products like air fresheners, laundry detergents, and all-purpose cleaners. Many of the products tested are top sellers in their category. What they found was that:
The products emitted more than 100 volatile organic compounds (VOC's), including some that are classified as toxic or hazardous by federal laws.
Each product emitted 1–8 toxic or hazardous chemicals.
Close to half (44%) generated at least 1 of 24 carcinogenic hazardous air pollutants. These included acetaldehyde, 1,4-dioxane, formaldehyde, or methylene chloride. These hazardous air pollutants have no safe exposure level, according to the U.S. Environmental Protection Agency.
Even products advertised as "green," "natural," or "organic" emitted as many hazardous chemicals as standard ones.
Concentrations of VOCs indoors typically exceed outdoor levels, and most people spend nearly 90% of their time indoors.
By using natural cleaning products you can eliminate these toxic chemicals from your home.
2. Protect Your Health
Conventional cleaners are linked to asthma, headaches, wheezing, respiratory infections and irritation, cancer, and endocrine dysfunction.
In addition, a recent longitudinal study found that women cleaning at home or working as occupational cleaners had accelerated decline in lung function.
Even more concerning was that women cleaning professionally experienced lung damage comparable with smoking 20 cigarettes daily for 10 to 20 years.
According to the American Lung Association, you can prevent harm by choosing products that do not contain or have reduced amounts of VOCs, fragrances, irritants and flammable ingredients. Choosing natural cleaning products or making your own is the best bet for protecting your health and the health of your family.
3. Your Home Will Be Safer For Your Children
Children are especially sensitive to cleaning chemicals like sanitizers and disinfectants. And natural curiosity increases the chances of a child coming into contact with hazardous chemicals.
Think about how many times your child has licked a table, placed objects in their mouth, or rubbed their eyes after touching treated surfaces.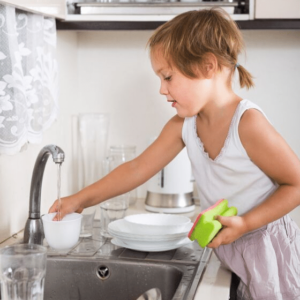 In addition, according to the National Poison Control Center, cleaning products in spray bottles are now the leading source of cleaning products that poison children. They further indicate that most store-bought cleaning products are not safe for children to use.
My daughter loves to help spray and clean, so I feel better knowing that I am using non-toxic, natural cleaning products that are safe for her.
4. Save Money
When I first began learning about natural cleaning products I thought that they would be more expensive. Boy, was I wrong! You can save money by making your own natural cleaning products. Or you can purchase a natural all-purpose cleaner that can do multiple jobs. Most of the do-it-yourself products use very simple ingredients and are super easy to make.
5. You Will Love the Scent
I don't know about you, but when I use a conventional cleaning product my eyes burn and I can not stand the chemical smell. Especially air fresheners that just create a cloud of fumes in your home. When switching to natural cleaning products you can choose to make them unscented or add essential oils. For example, I love using lavender essential oil for a relaxing scent in our bedrooms and living room. And when I make an all-purpose spray for the kitchen and bathrooms I like to use a citrus essential oil. The fun part is that you can choose your favorites! If you would like to get started with essential oils, check out my post here.
6. Natural Cleaning Products Work
Homemade products made from simple kitchen ingredients have been keeping homes clean for years. For example, simple and inexpensive white vinegar is very effective at killing E. coli, salmonella and shigella bacteria. In addition, certain types of essential oils have antibacterial properties (source).
Natural cleaners, both those you can make at home and those you can buy at the store, can disinfect as well. And they do it without exposing you and your family to harsh chemicals found in commercial cleaning products that can irritate your skin, eyes, and lungs.
Caution – Products Labeled as "Green" or "Natural" are Not Always Safe Choices
You would think that you could shop for natural cleaning products by simply purchasing a product off the shelf that claims to be "green" or "natural". Unfortunately, this is not the case. This is because the Consumer Product Safety Commission does not regulate those terms and cleaning brands are not required to disclose the ingredients on their packaging. The same is true for fragrances in personal care items, which are overseen by the Food and Drug Administration.
For example, I have used a product by the name of "Green Works" as an all-purpose cleaning spray. However, when I researched the ingredients I found that it includes ingredients associated with skin irritation, allergies, lung damage, and respiratory effects. It also does not disclose what is used for fragrance.
A single fragrance in a product can contain a mixture of hundreds of chemicals.
How to Choose a Safe, Natural Cleaning Product
If you choose to purchase a store bought natural cleaning product, opt for products certified by a third party such as Green Seal or EPA's Safer Choice. You can also search for the product in the Environmental Working Group (EWG) database. This database provides rankings for more than 2,500 products.
As I mentioned earlier, a great way to start with making your own natural cleaning products is to use essential oils. In my next post, I will provide easy to make, inexpensive recipes that you can make in minutes!
To get started, check out:
Forget Dryer Sheets, Try Alpaca Dryer Balls
DIY Natural Air Freshener & Disinfectant Spray
Natural Laundry Detergent: The Best DIY Recipe and Store Bought Options
The Best Way to Get Started with Essential Oils
Next Steps
Are you thinking of switching to all natural products? Check out this guide to easily switch to all natural products for your home and personal use. Making the switch doesn't have to be expensive or complicated. And every single switch you make can truly have a big impact on your health and well-being.