The Best Way to Get Started with Essential Oils
Disclosure: Some of the links in this article are affiliate links, which means that if you purchase through those links I will receive a small commission. For example, as Amazon Associate, I earn from qualifying purchases. If you decide to use these links, thank you so much for your support!

---
Hi there! I am so excited that you are interested in getting started with essential oils! I personally have been using natural and nontoxic products since 2013. At that time I was expecting my daughter and wanted to make sure that I was making the best choices for myself and for my growing baby. Ever since then, I have become more interested and passionate about nontoxic products.
In addition, I have an autoimmune condition, so I am very sensitive to chemicals and certain ingredients. Using nontoxic products and essential oils helps to keep flare ups and symptoms at bay.
I began using products from Young Living because they offer an extensive line of essential oils and essential oil-infused, plant-based products that represent the best of nature.
What are Essential Oils?
Many plants contain compounds that typically can't be seen with the naked eye. They are contained within the roots, flowers, seeds, bark, or other areas of the plant. These compounds are known as essential oils. They are highly concentrated, making them extremely potent.
Essential oils are extracted through careful steam distillation, resin tapping, and cold pressing. It's critical that you use quality oils like those from Young Living that are not compromised by added synthetics, contaminants, or cheap fillers, or by using unethical production practices.
Benefits of Essential Oils
Essential oils have been used to enhance lives for thousands of years. You can use oils to inspire a positive emotional state, improve memory and focus, enhance physical wellness, and purify your home. You can also use them to support sleep and relaxation, boost your immune system, and aid with seasonal allergies. These are just a few of the many uses.
You may be thinking, "Do essential oils really work, or is this just a fad?" Believe me I asked the same thing. Yet, after a review of the research I found that there are over 20,000 citations for biomedical literature regarding essential oils and their uses (source). In addition, when used properly, they have few, if any, side effects.
How I Got Started With Essential Oils
When I first started using Young Living, I got this amazing deal and I think it's the perfect way to get started with essential oils. I love the products so much I want to share them with you.
The 2019 Premium Starter Kit is packed with Young Living favorites and is only $165 (a $400+ value).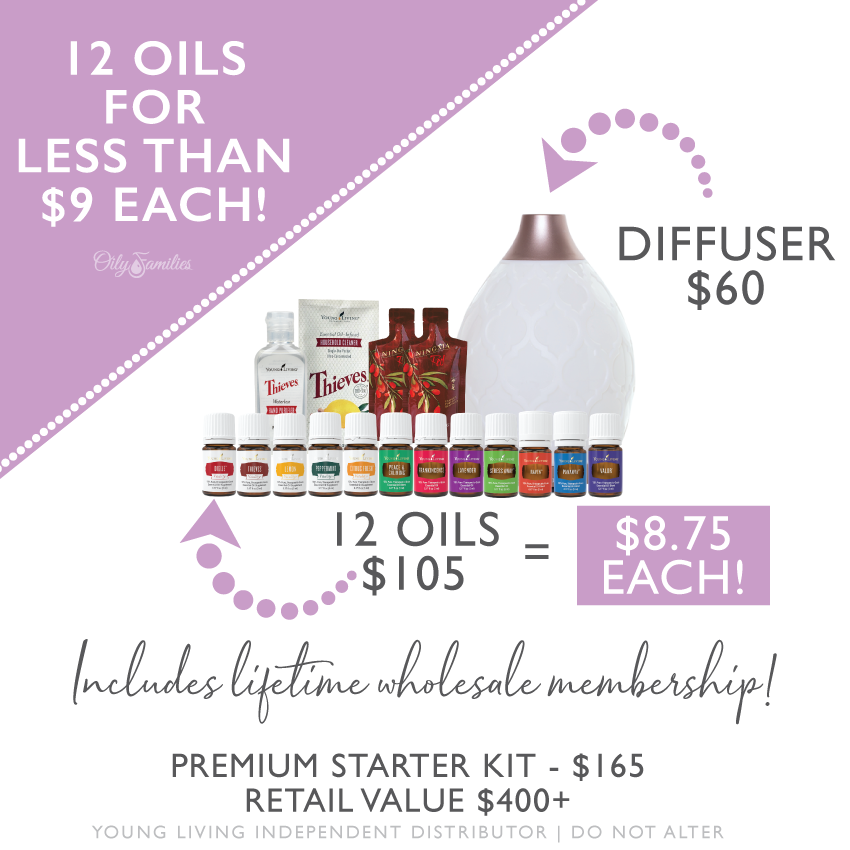 What is Included In Your Premium Starter Kit
Desert Mist Diffuser
Lavender 5-ml
Peppermint Vitality™ 5-ml
Lemon Vitality™ 5-ml
Valor® 5-ml
Peace & Calming® 5-ml
Frankincense 5-ml
Thieves® Vitality™ 5-ml
Citrus Fresh™ Vitality 5-ml
Raven™ 5-ml
DiGize™ Vitality™ 5-ml
PanAway® 5-ml
Stress Away™ 5-ml
2 AromaGlide™ Roller Fitment
Thieves® Waterless Hand Purifier, 1 oz.
Thieves® Spray, 1 oz.
2 NingXia Red® 2-oz. samples
"Essential Oils at a Glance" Brochure
Product Guide
Essential Oil Display Tray
Young Living Lifestyle Booklet
Essential Oils Magazine
Essential Edge News
Member Resources
Note: You get TWELVE 5-ml bottles with this deal. People have asked if these are just samples, but they are FULL SIZE 5-ml bottles.
How to Order Your Essential Oils Kit
If you are ready to buy a starter kit, then be sure to sign up as a wholesale member (with one of the premium starter kits). As a member you will receive a 24% discount on any other amazing products that you want to purchase in the future. This is a great deal!
The following are instructions to sign up and order your kit:
1. Head over to the Young Living page here and fill out your information.
2. Be sure to check the "Member" option so that you don't end up paying retail prices.
3. Be sure the "sponsor ID" and "enroller id" say 19708037 (so that I can send you your Welcome Package!)
4. Select which starter kit you want to get. My recommendation would be the Premium Starter Kit as pictured above. The oils included are the oils that I now use almost every single day! You'll also get to choose which diffuser you prefer. Other great options include a Savvy Minerals Premium Starter Kit and a Thieves® essential Oil Kit.
5. OPTIONAL: Join Essential Rewards and receive a monthly Wellness Box with customizable products based on your needs. By enrolling in Essential Rewards you will earn product credit and free products! You can read more about Essential Rewards HERE.
6. Go through the checkout process.
IMPORTANT: This promotion is only available when you sign up with the sponsor ID and enrollment ID as #19708037!
I want to make sure that you have the resources you need to start using and enjoying your essential oils. So, after you order your premium starter kit and wait excitedly for it to arrive ? I will send you a Welcome Package! The welcome package will include:
The workbook, Wellness with Essential Oils, created by by mentor, Laurie Malseed of One Mom and a Blog.
An invitation to join our private Facebook group that's specifically for questions about essential oils. From my experience, I have found that it is awesome to have a community of like minded people for support and information.
What Else Does Young Living Offer?
Young Living has an entire line of personal care products, cleaning products, supplements, and more! Almost every product incorporates essential oils (for example, Lavender and Orange Flower extract are absolutely wonderful in facial products). There is definitely a wide variety of products available.
Why Choose Young Living?
Young Living offers an extensive line of plant-based products that represent the best of nature.
Young Living has been passionately distilling essential oils for over 22 years from their own farms, partner farms, and Seed to Seal-certified suppliers. Their proprietary Seed to Seal process guarantees the purity that you and your family deserves.
Inexpensive essential oils are often synthetic, adulterated, or unethically sourced, which is why Young Living chooses partners who produce pure essential oils and ingredients ethically and legally. Many factors affect the quality of an essential oil. And quality, in turn, affects therapeutic value and results.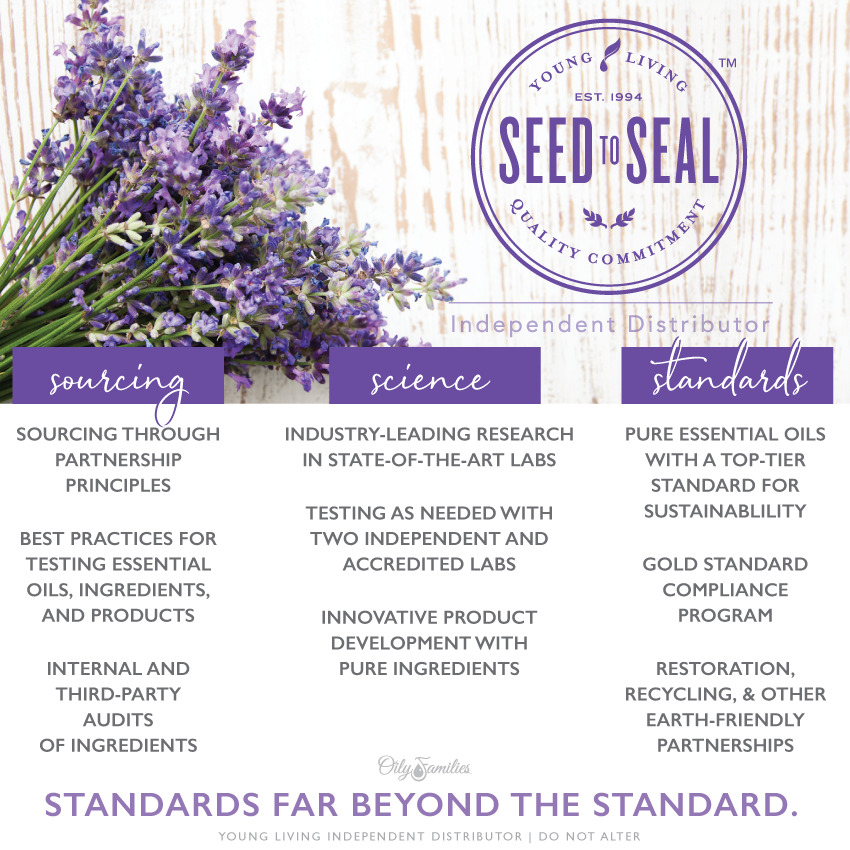 What's the Catch?
There really isn't one. You do not have to make a monthly minimum purchase (unless you want to). You don't have to sell anything (unless you want to). If you never want to order again after making that initial purchase you won't be penalized other than losing your discount. To keep your membership active, you just have to purchase $50 worth of product a year (so restocking your lavender and peppermint or grabbing some supplements or toiletries would totally do it).
If you have questions feel free to contact me by email at kat@naturalmadesimple.com or by clicking here.
---
Next Steps to Switch to All Natural Products
Are you thinking of switching to all natural products? Check out this guide to easily switch to all natural products for your home and personal use. Making the switch doesn't have to be expensive or complicated. And every single switch you make can truly have a big impact on your health and well-being.