Natural Laundry Detergent: The Best DIY Recipe and Store Bought Options
Disclosure: Some of the links in this article are affiliate links, which means that if you purchase through those links I will receive a small commission. For example, as Amazon Associate, I earn from qualifying purchases. If you decide to use these links, thank you so much for your support!

---
Have you ever read the list of ingredients on the back of your laundry detergent? I see you shaking your head. You probably haven't because we are led to believe that laundry detergent is a safe product made to clean our clothes and smell good, right?
Well, unfortunately those unpronounceable ingredients printed on the back of the laundry bottle can be harmful to your health.
Fortunately, there are affordable, easy ways to switch to natural laundry detergent.
I have tested several natural laundry detergents. So today, I am sharing the best DIY recipe and four store-brought brands with you.
Laundry Detergent and Your Health
To be honest, until just a few months ago I didn't even know there was a list of ingredients on the back..insert embarrassed emoji face here. However, when my daughter began experiencing rashes and irritation on her arms I thought maybe it was our detergent.
I found that when you wash your clothes the detergent does NOT wash off with it. Nope, each piece of laundry contains residues from detergents. These residues remain in the fabric. They rub off on your skin and your skin absorbs them. In addition, residues of these chemicals also evaporate into the air where they are breathed in.
These chemicals have been linked to allergic reactions, reproductive disorders, cancer, neurological conditions, and developmental concerns. NOT cool laundry companies.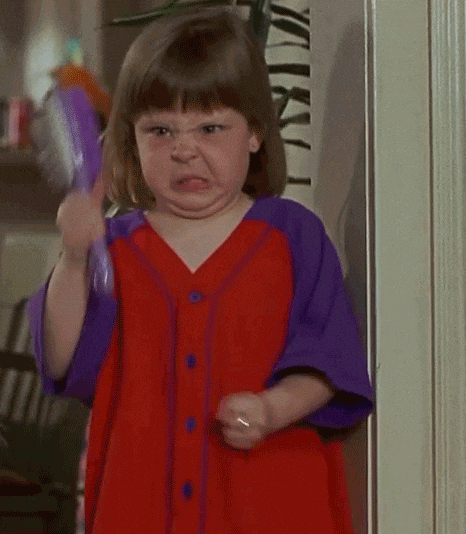 Also, even when you purchase "free and clear" detergents, they are not safe. They have the same chemicals as the regular detergents with added ingredients to hide and MASK the fragrance and dyes.
For example, the detergent that I had been using states that it is "free & clear", but scored a big F by the Environmental Working Group.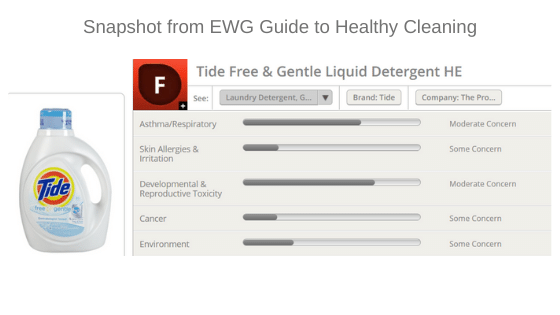 For more information about health risks, check out 6 Proven Reasons to Switch to Natural Cleaning Products.
Laundry Chemicals to Ditch
So, what ingredients do you need to avoid? The following is a list of the most common harmful chemicals in laundry detergent products.
Click on the image to download a printable PDF. Or Pin it for later!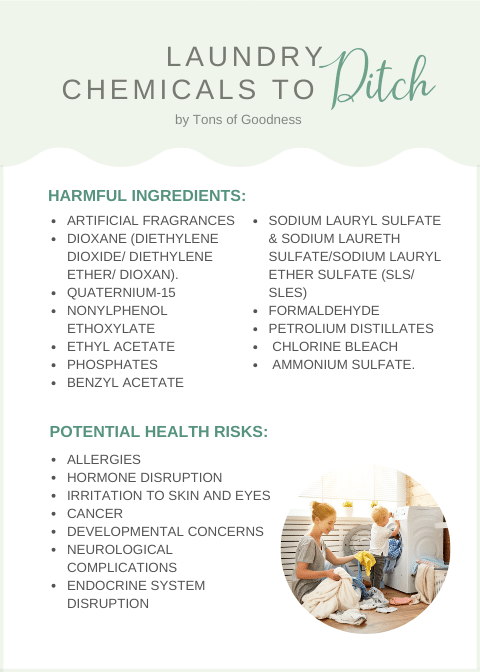 How to Switch to Natural Laundry Detergent
To avoid these harmful ingredients you have two options. You could (1) make your own OR (2) purchase a natural laundry detergent.
DIY Natural Laundry Detergent
Many DIY natural laundry detergent recipes include Borax. However, the EWG states that they do not recommend borax due to it's potential to cause irritation and hormone disruption. So, when I searched for a natural laundry detergent recipe, I wanted to make sure it was free of borax.
I also wanted to make sure I was saving money…of course! The recipe below will last for about 100 loads and costs less than $20.
This recipe is a great option for a simple, fast, effective natural laundry detergent:
Simple Laundry Detergent Recipe
This is a simple, fast way to make your own laundry detergent.
Ingredients
1

cup

Dr. Bronner's Pure Castile Liquid Soap

3/4

cup

OxiClean Baby Stain Fighter

3/4

cup

Arm & Hammer Super Washing Soda

2

cups

water
Instructions
Warm the water in a stockpot over low heat. Stir in OxiClean and washing soda and mix until dissolved.

Take your stockpot off of the heat. Pour in Castile soap and stir.

Pour the mixture into a one-gallon container. Or separate evenly into four 1-Liter pump bottles. Fill the remainder of the container(s) with water.

Shake before use if needed. Use 1/4 cup of laundry soap per load. Add Cleaner and OxiClean to washer BEFORE adding laundry. Safe for HE Washers.
---
Store-Bought Natural Laundry Detergent Brands
If you prefer a pre-made natural laundry detergent there are some great options available. These are a few with high ranking scores from the EWG and great reviews: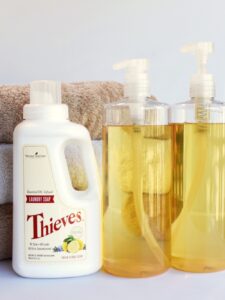 I have been using Young Living's Thieves Laundry Soap for about a month now. It is made of plant-based ingredients and leaves our clothes fresh and clean.
It has a light citrus scent from essential oils. Not only does it clean well, but a little goes a long way! It is concentrated, so you can get 64 loads from one bottle.
Better yet, I diluted it further by dividing the 32-ounce bottle into 1-Liter Pump bottles. I then added one capful of Thieves Household Cleaner, then filled the rest of the way with water. It works great and will last a long time! Edited to add: I discovered that one of my family members is sensitive to the essential oils used in this laundry soap. If you have sensitive skin you may want to choose one of the options below.
---
If you prefer a powder, then Molly's Suds are a great choice. Molly's Suds products are formulated with plant-derived ingredients that are Eco-responsibly sourced, free of carcinogens, and safe for your family.
---
ATTITUDE is extra gentle on skin yet tough on stains. It smells amazing with a light, grapefruit scent. It leaves clothes feeling clean and soft. Thier products are ECOLOGO Certified, plant and mineral based, and biodegradable. ATTITUDE is also vegan, Cruelty-free, and never tested on animals.
---
Cleans tough stains and odors and leaves no residue or harsh scent. It's 3x concentrated, so you get a lot of loads washed from one bottle. It has a light, fresh citrus scent. And a bonus – it's packaged in 100 percent recycled cardboard and newspaper
---
Check Your Detergent's Rating
If you would like to see how your current laundry detergent ranks, just go to www.ewg.org/guides. You will find a database of over 2,500 products and their rankings.
Do you make your own laundry detergent? Will you consider starting now? Or will you switch to a natural laundry detergent? Share your experience in the comments!
Next Steps to Switch to All Natural Products
Are you thinking of switching to all natural products? Check out this guide to easily switch to all natural products for your home and personal use. Making the switch doesn't have to be expensive or complicated. And every single switch you make can truly have a big impact on your health and well-being.