Pure Green Natural Latex Mattress Topper [Review]
Disclosure: Some of the links in this article are affiliate links, which means that if you purchase through those links I will receive a small commission. For example, as Amazon Associate, I earn from qualifying purchases. If you decide to use these links, thank you so much for your support!

---
Shopping for a mattress topper can be exhausting. There are just so many choices out there. Even worse, the range of prices is crazy (some are over $1,000!). So today, I'm going to tell you about the mattress topper I chose and 8 reasons you will want to purchase it too.
First, let's chat about why I was looking for a mattress topper.
Well, when we purchased our daughter's mattress she was about 3 1/2 years old. We were switching from her crib-sized toddler bed mattress to a full-size mattress.
Younger kids transitioning from a crib mattress often enjoy a firmer mattress because it feels most like their crib. So, after doing my research we bought a firm mattress from MyGreenMattress.com (affiliate link). It's made out of organic cotton and natural materials. It is still in perfect shape, but with the firmness of the mattress, I feel pretty sore after sleeping in her room.
My daughter also talks about how our bed is softer (and more fun to jump on), so I thought this would be a great time to go ahead and order a mattress topper to soften up her bed.
How to Choose the Best Mattress Topper
While mattress toppers add a layer of softness to a mattress, some also contain toxins that you don't want in your home.
Some of these toxins include formaldehyde, flame retardants, and methylene chloride to name a few. As these chemicals in your mattress topper break down they off-gas (release) into the air.
But that's not all…
These chemicals can have serious consequences for your health. For instance, they can lead to problems such as respiratory problems, skin damage, developmental issues, cancer, and thyroid dysfunction.
Even worse, kids are more vulnerable to the toxins in mattresses since their fragile systems are still developing and they spend more time in their beds than adults (well, usually!).
This is why we purchased a mattress from MyGreenMattress.com and then looked to add a natural topper for softness.
Safe Mattress Topper Choices
I'm sorry to scare you with all the toxin talk, but I think it's important to be aware of what we are bringing into our homes.
I am especially careful about choosing natural options due to my condition of Hashimoto's, an autoimmune condition. It makes me super sensitive to just about every chemical. Like, I can't go down the laundry detergent at the store without feeling a headache coming on!
And since these toxins affect kids even more so than adults, I want to keep our home as toxin-free a possible.
Fortunately, there are great options for mattress toppers that are toxin-free!
The Three Main Types of Mattress Toppers
Organic Cotton – When purchasing an organic cotton mattress topper, look for the Global Organic Textile Standard (GOTS) certification. This means that they abide by strict standards that ensure that the textiles are processed and handled with organic integrity.
Natural Latex – If you are going to purchase a latex mattress topper, make sure that it's all-natural latex. Look for the Greenguard Gold Certificate (indicating that the topper is made of low emission materials) and eco-INSTITUTE certification (a label marking products that meet the strictest requirements for low emissions and pollutants).
Wool – Wool is also used in organic mattresses. Look for the GOTS certification, which means that the batting is not treated with any flame retardants and contains no polyester fibers. The sheep are raised responsibly and allowed to graze freely on certified organic farms.
Pure Green Natural Latex Mattress Topper Review
After researching my options, I purchased the Pure Green Natural Latex Mattress Topper by Sleep On Latex (Amazon link).
We are loving our new mattress topper for a few reasons:
1. Overall Softness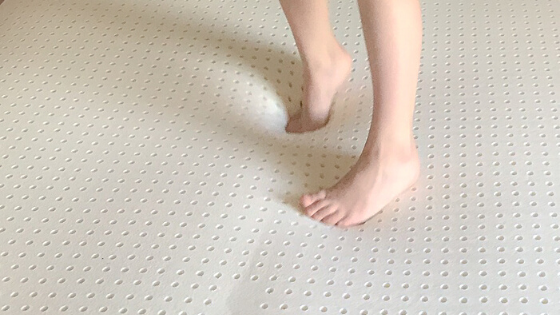 As soon as we put the mattress topper and our mattress cover on top, we both flopped onto the bed and were excited about how soft it feels. I actually fell asleep and took a nap.
The natural latex has a spongy feel that contours to your body without feeling like you're totally sinking into it. It makes our firm mattress feel like a whole new softer mattress.
My daughter loves that she feels like she bounces higher when she jumps on the bed 😂.
2. Relief from Back Pain
I was happy to find that this topper also provides pressure relief. So, when I woke up after sleeping on it my back didn't hurt like it did when sleeping on the firm mattress alone. This was one of the main reasons that I bought it, so this was a win!
I saw that they also make latex pillows, so I'm thinking of getting one of those too. I image it would be super soft, yet supportive to keep my neck in alignment while I'm sleeping.
3. Less Expensive than Other Natural Latex Mattress Pads
We bought the medium firmness – 2 Inch topper for a full-size bed. This cost $159 (with free shipping through Amazon Prime). *This is the price on 05/22/20 at 6:05 am.
This is a great deal compared to its competitors:
$299 (Latex for Less Full-Size Mattress Topper)
$349 (Avocado Green Full-Size Mattress Topper)
$398 (Sleeping Organic Full-Size Mattress Topper).
4. Stays Cool Through the Night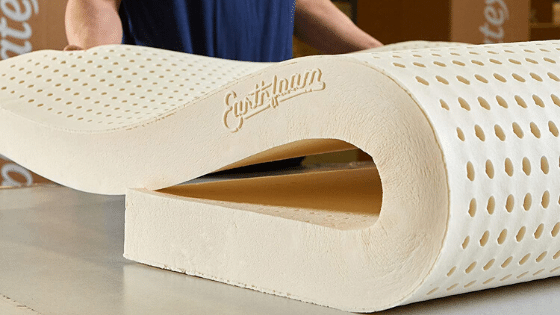 Natural latex is heat neutral, so it will not absorb body heat. It's made of an open-celled foam and contains tiny air chambers that run throughout the foam. These air chambers allow the air to flow freely through the topper.
Our mattress is made of organic cotton and I didn't notice a difference in heat. It stayed neutral through the night.
If you have a mattress that gets hot at night (like memory foam), you could add a 2″-3″ topper to act as a buffer between your body and a hot mattress.
5. Made of 100% Natural Latex
Pure Green Latex Foam is made of solid sheets of natural latex. So it does not contain any synthetic latex, fillers, or fire retardants. The natural latex used in the mattress topper is harvested from rubber trees in Sri Lanka.
The latex foam used for this mattress topper is certified by Oeko-Tex and has the Greenguard Gold Certificate.
6. You Can Use the Topper Right Away
Since the mattress topper has the certifications mentioned above we did not need to air it out at all. A lot of latex toppers have a strong smell to them and need to sit out a while after you take them out of the package.
We were pleasantly surprised that this topper has no scent at all and we put it on my daughter's bed right away!
7. Fast Delivery
I ordered our mattress topper from Amazon.com. Since we have Amazon Prime membership, it arrived 4 days after ordering.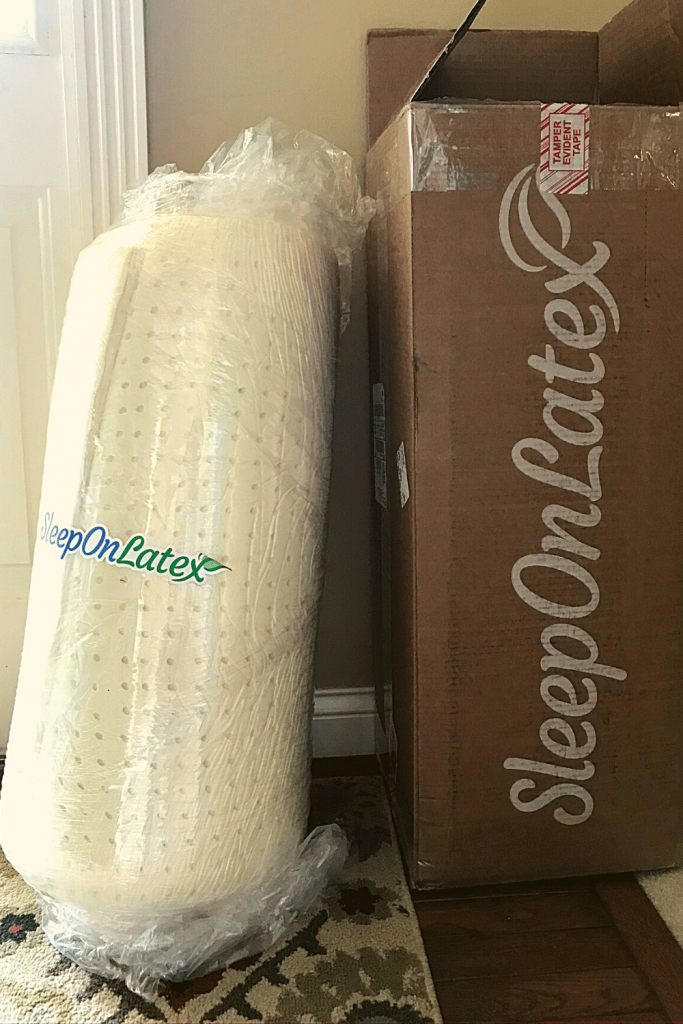 8. Free Returns Within 30 Days
There is no way we are returning our Pure Green Natural Latex Mattress Topper. However, if you do order one and decide you would like one of the other options (there are three levels of thickness and softness), they do offer free returns.
All you have to do is request a return within 30 days of receipt. There is also a 5-year warranty.
What Thickness Mattress Topper Should I Get?
This was another question to consider when ordering a mattress topper.
There are three thickness options to choose from. These are the descriptions provided by Sleeponlatex.com:
Thickness Options
1″ Mattress Topper – The 1" toppers are great for producing a subtle change to the surface feel of a mattress. While a 1" topper will not add additional support, it will tweak the feel of a mattress without adding much additional height.
2″ Mattress Topper – The 2" topper is the most popular topper thickness. It will provide a moderate change in firmness and add pinpointed support to any mattress while still retaining support from the underlying mattress
3″ Mattress Topper – The 3" topper will provide a significant change to the firmness and comfort of a mattress.
I chose the 2″ Mattress Topper. The 1-inch sounded like it wouldn't make much of a difference at all. While the 3-inch seemed like it might be too much of a change. We are happy with the 2″ Mattress Topper for my daughter's bed.
There are also three firmness options to choose from. These are the descriptions provided by Sleeponlatex.com:
Firmness Options
Soft – The soft topper is ideal when attempting to make a mattress softer. Although soft, natural latex foam is always springy and supportive, which prevents sinking through the topper. The soft topper is best for alleviated hip or shoulder pain of side sleepers and to make a mattress softer.
Medium – A medium firmness topper adds pinpointed support to a mattress without significantly changing the firmness. It's best to add comfort to a mattress for back sleepers. It's also a compromise between soft and firm for couples with different preferences.
Firm – A firm topper works best for those who prefer sleeping on firm mattresses. While the firm foam is extremely strong and supportive, it is not rigid or stiff. It's best to firm up a mattress that is too soft.
We chose the Medium firmness since it's a great compromise.
Where to Purchase
The following are links to each of the mattress topper options:
Pure Green 100% Natural Latex Mattress Topper – Soft Firmness – 1-3″ Options
Pure Green 100% Natural Latex Mattress Topper – Medium Firmness – 1-3″ Options
Pure Green 100% Natural Latex Mattress Topper – Firm – 1-3″ Options
Summary
This mattress topper really does help to improve the softness of our firm mattress. It is definitely worth the cost and allows us to sleep happily and soundly through the night.
This soft, dreamy mattress topper will turn your mattress into the most comfortable thing you've ever slept on!
Next Steps to Switch to All Natural Products
Are you thinking of switching to all natural products? Check out this guide to easily switch to all natural products for your home and personal use. Making the switch doesn't have to be expensive or complicated. And every single switch you make can truly have a big impact on your health and well-being.
*Note: Product prices and availability are accurate as of the date/time indicated and are subject to change. Any price and availability information displayed on Amazon.com at the time of purchase will apply to the purchase of this product.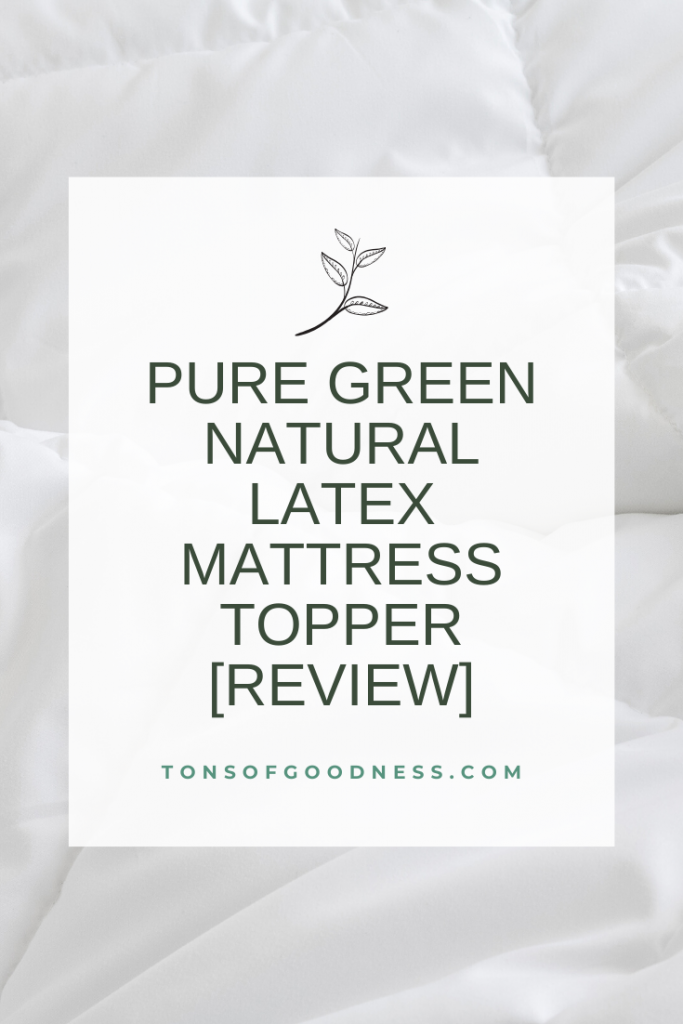 Related articles for better sleep:
DIY Lavender Vanilla Pillow Mist: Relax and Fall Asleep Fast
Proven Ways To Improve Your Child's Sleep Hygiene