The Gardening & Sustainable Living Bundle Review + Product List
Disclosure: Some of the links in this article are affiliate links, which means that if you purchase through those links I will receive a small commission. For example, as Amazon Associate, I earn from qualifying purchases. If you decide to use these links, thank you so much for your support!

---
We all know that gardening can be overwhelming. But, what if you could have access to a comprehensive "tool kit" of amazing, high-quality resources to take some of the stress, overwhelm, and difficulty out of gardening and sustainable living?
Well, you'll never believe what I found.
Ultimate Bundles has been curating bundles on different topics since 2012, but they just released their first bundle ever that's focused on gardening, homesteading, and sustainable living.
It's called the Gardening & Sustainable Living Bundle. And it teaches you to do exactly what it's called. 😉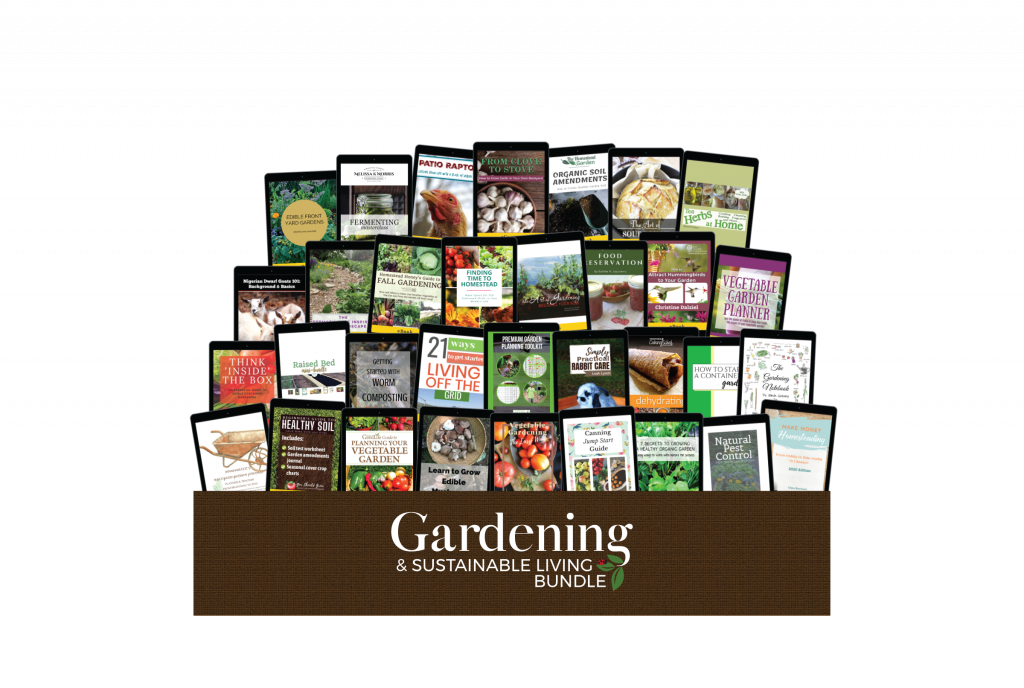 Inside you'll find eBooks and eCourses that teach you how to:
Grow delicious vegetables (even if you're short on space)
Preserve food with canning, dehydrating, fermenting, etc
Plan your garden so you don't waste a square inch
Homestead like it's your job (seriously, you can make money from it)
Raise animals, like goats, rabbits, and chickens
And much more!
This Gardening & Sustainable Living Bundle is available for only a limited time and is valued at over $600, but is being offered at a 95% discount. When you buy the Gardening & Sustainable Living Bundle, you'll get access to:
21 eBooks
7 eCourses
5 printables & planners

What's in the Bundle?
As an affiliate, I was given early access to the Gardening & Sustainable Living Bundle. I had to wait until today to share this with you. It was so hard to keep a secret!
First, let's chat about a few things you should know before you purchase this Ultimate Bundle.
How to Get the Most out of an Ultimate Bundle
When I first purchased the bundle I thought that I would feel overwhelmed. There are just so many good things to read and learn from!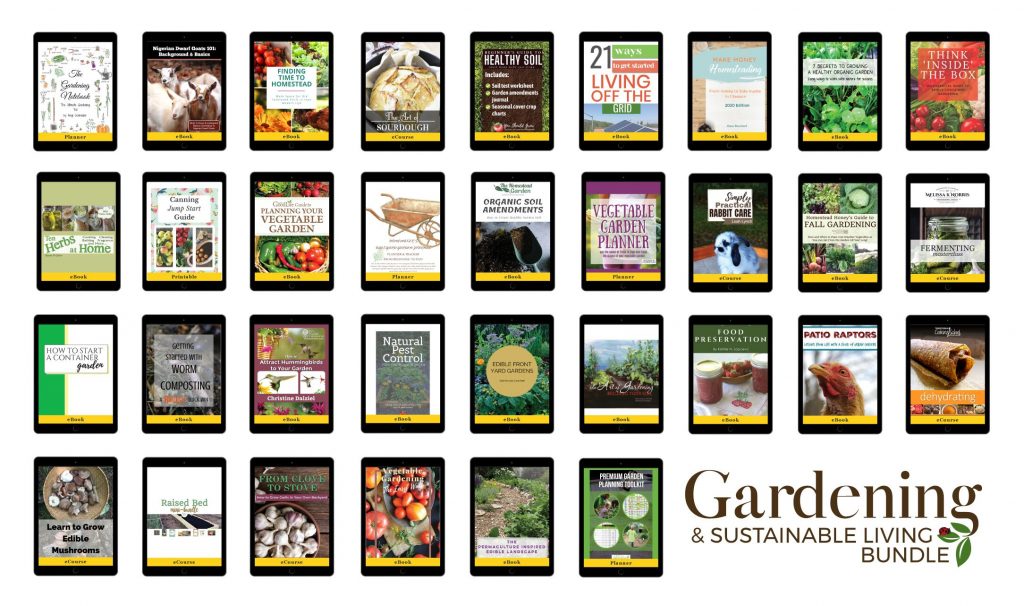 However, I quickly realized that the information is organized in a way that makes it super easy to find what you are looking for.
At the top of the screen you will find a video of a quick tour of the bundle. You can then click on the category you are looking for and the format (ebook, printables, etc). Super easy!
This is what the screen will look like when you log in to see your bundle: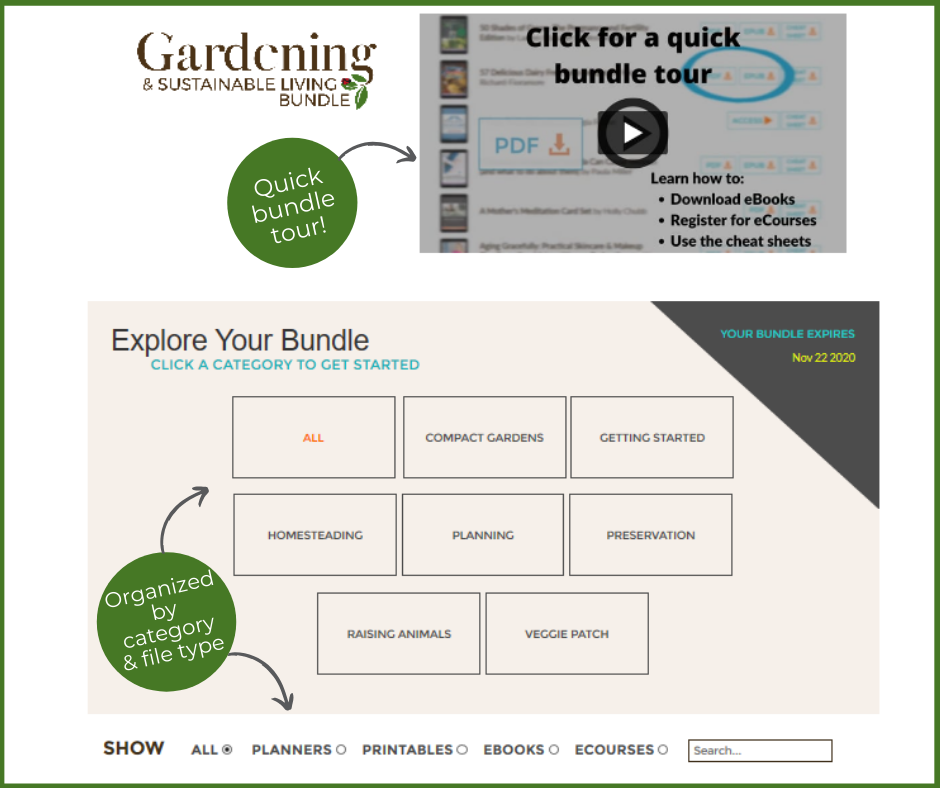 They have also provided cheat sheets that you can purchase for only $8 more when you purchase your bundle. These cheat sheets are a must-have because they give you a quick reference to ALL of the materials in the bundle. I used them over the weekend and was able to quickly find all of the information I needed.
Are these Products that You Will Use?
The reality is that you won't use all of the products in the bundle. But, as long as there are two or three that you are interested in, then it's totally worth it!
For example, I don't plan to live off the grid anytime soon or raise my own livestock. However, I am very interested in learning about container gardens, growing vegetables, and natural pest control.
The awesome thing is that there is something for everyone interested in gardening and sustainable living!

What Resources are Included in the 2020 Gardening & Sustainable Living Bundle?
A better question might be "what gardening topic is NOT covered?"
Compact Gardens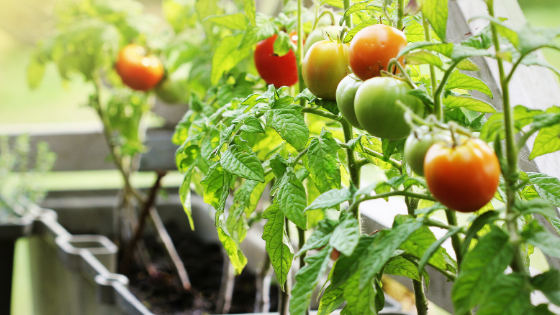 How To Start A Container Garden (eBook) by Julie Brown $7.00
If you don't have the time or space for a large garden, this book will walk you through how to start a container garden on your porch or deck.
Raised Bed Mini Bundle: Plan, Build, Fill, Grow, and Harvest (eCourse) by Jill McSheehy $24.50
Your raised bed quick-start guide to planning, building, filling, and growing a garden in raised beds.
Think 'Inside' the Box: An Essential Guide to Edible Container Gardening (eBook) by Shelby DeVore $29.00
A complete guide to starting, caring for and harvesting vegetables in containers
Getting Started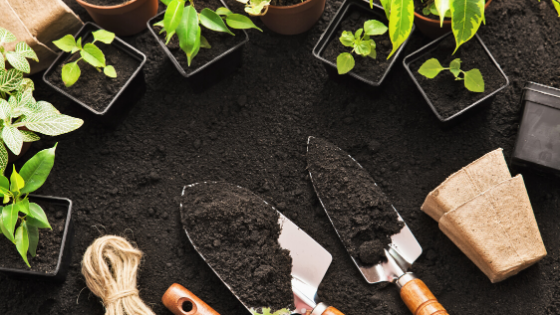 7 Secrets to Growing a Healthy Organic Garden (eBook) by Anne Gibson $4.97
Discover 7 keys to growing an abundant edible organic garden and commonsense ways to work with nature instead of chemicals for good health and greater success.
Beginner's Guide To Healthy Soil (eBook) by Laura Seabolt $7.00
Learn to understand and improve your garden soil for healthier plants with less work.
Getting Started with Worm Composting (eBook) by Rootsy Network $4.99
A simple to follow eBook with video to teach worm composting to improve soil quickly and easily.
How to Attract Hummingbirds to Your Garden (eBook) by Christine Dalziel $9.97
Learn how to make your home garden more inviting to hummingbirds with this quick start guide.
Natural Pest Control for the Home Garden (eBook) by Courtney Johnson $9.99
Protect your garden from pests without the use of harsh chemicals, and grow a healthier, thriving garden!
Organic Soil Amendments (eBook) by Cris Daining $4.99
Learn about organic soil amendments that can help you improve your garden soil to boost your garden production and garden health.
The Art of Gardening (eBook) by Susan Vinskofski $13.00
With this book, you WILL become a better gardener. Your plants will resist disease and your produce will be nourishing because you've built healthy soil.
The Permaculture Inspired Edible Landscape (eBook) by Amy Stross $14.99
Permaculture strategies for growing a front yard edible landscape that is beautiful, easy to maintain, and ecologically friendly.
Homestead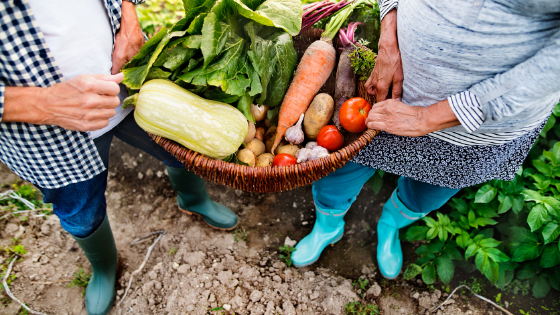 21 Ways to Get Started Living Off the Grid (eBook) by Sarita Harbour $6.99
Learn the first steps towards self-reliance off the grid in this practical guide packed with action items to start right now.
Finding Time to Homestead: Make Space for Old Fashioned Skills in Your Modern Life (eBook) by Mindy Wood $4.99
Learn to make more space in your life for self sufficient living (and stop trading your paycheck for things you can do better yourself!)
Make Money Homesteading (eBook) by Diana Bouchard $10.00
From hobby to side hustle, all you need to know to start making money from your homestead this season!
The Art of Sourdough (eCourse) by Victoria Pruett $47.00
Everything you need to know for amazing sourdough products!
Planning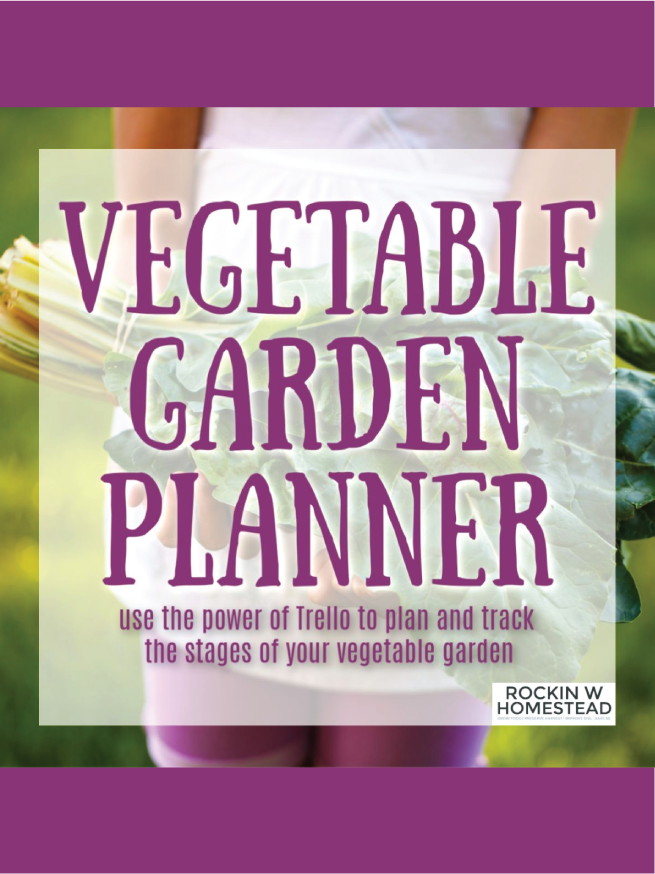 Homemaker's Backyard Garden Journal: Planner & Tracker (Workbook) by Clarissa West $5.00
Beautiful vintage-inspired planning, tracking, journaling pages to plan your backyard garden from beginning to end.
Seeds for Generations Premium Garden Planning Toolkit (Digital Planner) by Jason Matyas $99.00
Three amazing calculators that make figuring out important gardening dates fast and easy, plus a bonus Companion Planting Matrix and three live trainings on getting the most food possible from your garden!
The Gardening Notebook (Workbook) by Angi Schneider $12.97
A 120 page printable notebook that will help you create a custom notebook about YOUR garden.
Vegetable Garden Planner: Powered by Trello (Digital Planner) by Shelle Wells $17.00
Use the power of Trello to plan and track the stages of your vegetable garden. From seed starting to harvest, this planner tracks it all.
Preservation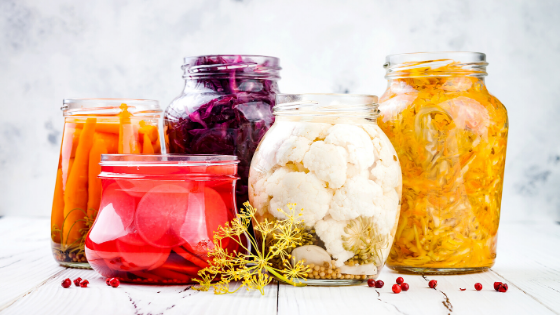 Canning Jump Start Guide with Easy Canning Recipes (Printable) by Jennifer Gomes $7.00
Equipment checklists, visual guides, season planner and 10 easy bonus recipes to get you started canning!
Dehydrating Masterclass (eCourse) by Wardee Harmon $99.00
Learn to quickly and easily dehydrate your own traditional foods for long-term storage, summer-fresh flavors, good health and freedom from energy dependence whether you're on the camping trail or in your own kitchen!
Fermenting Masterclass: Quick Guide to Preserving Healthy Fermented Vegetables (eCourse) by Melissa K Norris $18.00
How to easily and quickly begin fermenting vegetables at home.
Savoring Summer through Food Preservation eBook by Kathie N. Lapevic $7.50 A resource to preserve summer's abundance through canning, dehydrating, and freezing.
Raising Animals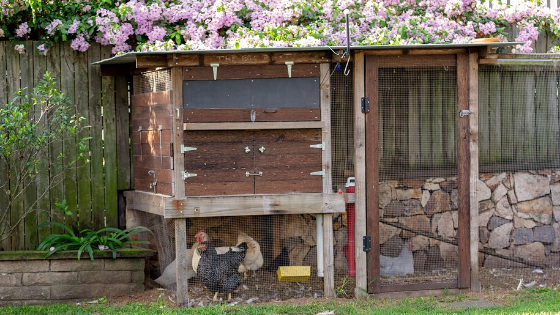 Nigerian Dwarf Goats 101: Background & Basics (eBook) by Lesa Wilke $4.99
If you're considering get started with this increasingly popular breed of small goats, then this book will get you on the right track!
Patio Raptors: Lessons from Life with a Flock of Urban Chickens (eBook) by Meredith Skyer $19.99
Raising chickens in the city or suburbs is a fun and rewarding hobby that comes with its own specific challenges, and this book is here to help you every step of the way.
Simply Practical Rabbit Care (eCourse) by Leah Lynch $12.00
Learn to raise rabbits with confidence.
Veggie Patch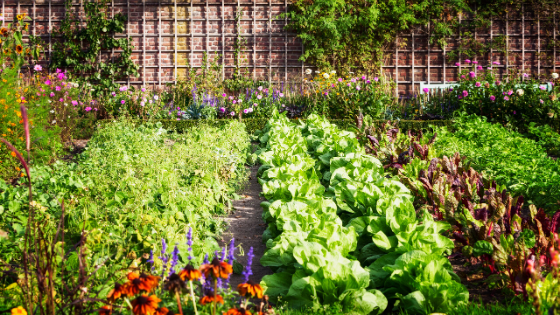 Edible Front Yard Gardens (eBook) by Kris Bordessa $5.95
Ditch the lawn and grow food in your front yard!
From Clove to Stove: How to Grow Garlic (eCourse) by Tracy Lynn $14.00
Your go-to guide on how to grow huge delicious garlic heads and the trick to storing them so they last all season long.
Grow a Good Life Guide to Planning Your Vegetable Garden (eBook) by Rachel Arsenault $7.99
Guides you through the steps to planning your vegetable garden so you can grow food and enjoy fresh harvests.
Homestead Honey's Guide to Fall Gardening (eBook) by Teri Page $6.95
Teaches you all you need to know to plan and plant a fall and winter garden. You'll learn how to extend your gardening season, save money at the grocery store, harvest amazing greens, and more!
Learn to Grow Edible Mushrooms (eCourse) by Chris Gilmour $19.00
Create a reliable, abundant and nutritious food source through growing your own mushrooms!
Ten Herbs at Home: For Cooking, Cleaning, Fragrance, Bathing and More (eBook) by Karon Grieve $17.00
Teaches you everything you need to know about using herbs at home from cooking to cleaning and so much more, with fun videos too.
Vegetable Gardening The Easy Way (eBook) by Jami Boys $9.99
Make vegetable gardening easier with the tips and techniques in this ebook and reap the harvest.
How Do I Get the Ultimate Gardening and Sustainable Living Bundle?
If you think getting this library of gardening and sustainable living resources with amazing bonuses for less than $20 sounds like a steal, then make sure to grab your gardening bundle before this deal ends!
Need more information? Click below to browse through Frequently Asked Questions and learn about the 30-Day 100% satisfaction guarantee.
Don't forget that the 2020 Ultimate Gardening & Sustainable Living Bundle is only available until May 17, 2021.
---
Bundle Quick Facts:
Dates: May 18, 2020 – May 17, 2021
Bundle price: $24.99 + $8.00 cheat sheets
Total value of the bundle: $577.71
P.S. Check out all the details here and let me know if you have any other questions that I didn't answer:

Which resource are you most excited about?
Review of the Gardening & Sustainable Living Bundle