How to Make Homemade Mosquito Repellent
Disclosure: Some of the links in this article are affiliate links, which means that if you purchase through those links I will receive a small commission. For example, as Amazon Associate, I earn from qualifying purchases. If you decide to use these links, thank you so much for your support!

---
Mosquitoes are the worst when you're outside trying to relax or have fun. Even worse, mosquito bites can cause itchy bumps, allergic reactions, and spread disease.
So today, I am going to show you how to easily make your own mosquito repellent using essential oils.
This natural mosquito repellent smells nice and is free of toxins. And most importantly, it works!
Essential Oils for Repelling Mosquitoes
There are 3 essential oils that have been found to work well as mosquito repellents.
1. Lemon Eucalyptus Essential Oil
Lemon Eucalyptus Essential Oil (Corymbia citriodora) is an oil extracted from the leaves of a tree native to Madagascar and Australia.
It has a calming, sweet lemony scent, and is a natural insect repellent.
The oil contains a compound called para-menthane-3,8-diol (PMD) that makes it harder for mosquitoes and other insects to pick up on the scent of your skin.
It's important to note that there is a difference between lemon eucalyptus essential oil and the oil of lemon eucalyptus found in many commercially available mosquito repellents.
The difference is that essential oils are a pure, steam-distilled oil from the plant. Whereas oil of lemon eucalyptus is a processed lemon eucalyptus oil that intensifies its concentration of PMD. This increases its power and duration as a repellent.
What this means is that with this recipe you are making today you may have to apply your spray more frequently to keep mosquitoes at bay.
Yet, I think it's worth it to know exactly what I'm spraying on myself and my family.
2. Tea Tree Essential Oil
The second essential oil for our recipe is Tea Tree Essential Oil (Melaleuca alternifolia). This oil is native to Australia and is one of the most widely used and extensively researched essential oils.
As I mention in this article, 11 Remarkable Uses for Tea Tree Oil, this oil is also great for repelling insects.
In fact, lab and field testing results have shown that tea tree oil is as effective at repelling mosquitoes, bush fly, and biting midges as a synthetic-based commercial repellent (source).
3. Lavender Essential Oil
Lavender essential oil (Lavandula angustifolia) smells amazing and works well with other oils for repelling mosquitoes.
This is because lavender contains a non-toxic compound called linalool, which is used in many pest control products. Apart from mosquitoes and ticks, lavender also often deters spiders, ants and flies (source, source).
But, that's not all…
Not only does lavender act as a natural bug deterrent, but it's also an anti-inflammatory agent that will help relieve the discomfort from bug bites.
The oil can be applied directly to bites, and it's especially helpful for fire ant bites, bee stings, and spider bites.
Homemade Mosquito Repellent Recipe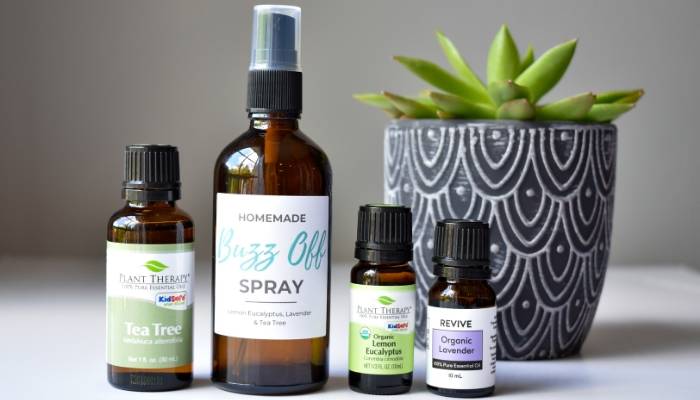 This recipe is super easy and quick to make. I usually use a small funnel to when making essential oil recipes. This set comes with two bottles, a funnel, and a dropper.
Ingredients:
1/4 cup water
1/4 cup witch hazel
1/2 tsp oil (any light oil will work)
20 drops lemon eucalyptus essential oil
20 drops tea tree oil
10 drops lavender essential oil
Instructions:
Combine all ingredients in a glass spray bottle. Shake the bottle before each time you apply.
Free printable label:
Make sure to label your bottle for safety purposes and so you don't forget to use your bug spray! Just click on the image below to open and save the file: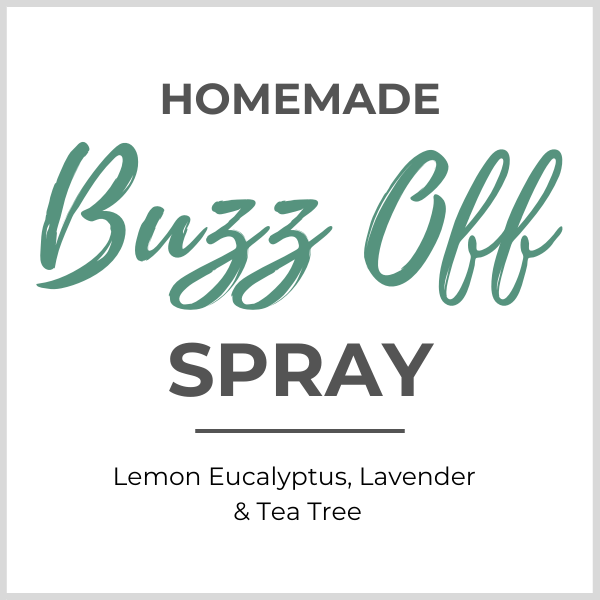 These are 2×2 inch square labels. I recommend using these labels when printing: https://amzn.to/3adgNIN OR https://amzn.to/3boa4fv.
How to apply insect repellent:
Test in a small area first to check for sensitivity.
Put on sunscreen first.
Don't apply repellents under your clothes.
Don't spray directly onto face; instead, spray your hands and rub repellent on your face.
Avoid your eyes and mouth.
Don't apply on injured or irritated skin.
Don't allow children to apply repellent themselves.
Apply frequently.
Quality Essential Oils
It's super important to use high-quality essential oils when making your products.
Why?
Because many essential oils are diluted or compromised. These oils won't produce the benefit as you would expect, which will just be a waste of money for you. Poor quality oils can also cause issues like irritation and allergies.
The brands that I trust and recommend are Plant Therapy and Young Living.
Supplies and Accessories to Make and Use Your Natural Products
When I first started using essential oils I felt completely lost and frustrated when trying to figure out where to find the various essential oil supplies and accessories that I needed.
I spent so much time to find the best bottles, carrier oils, and everything else that I needed to use my essential oils daily. So, I have created a guide of supplies that I have purchased and love.
This guide is an easy go-to reference guide so that you have the supplies and accessories all in one place for the next time you need to make a purchase for your essential oil DIY's.
Enter your name and email address below and I'll send you the FREE PDF version of this 13 page guide!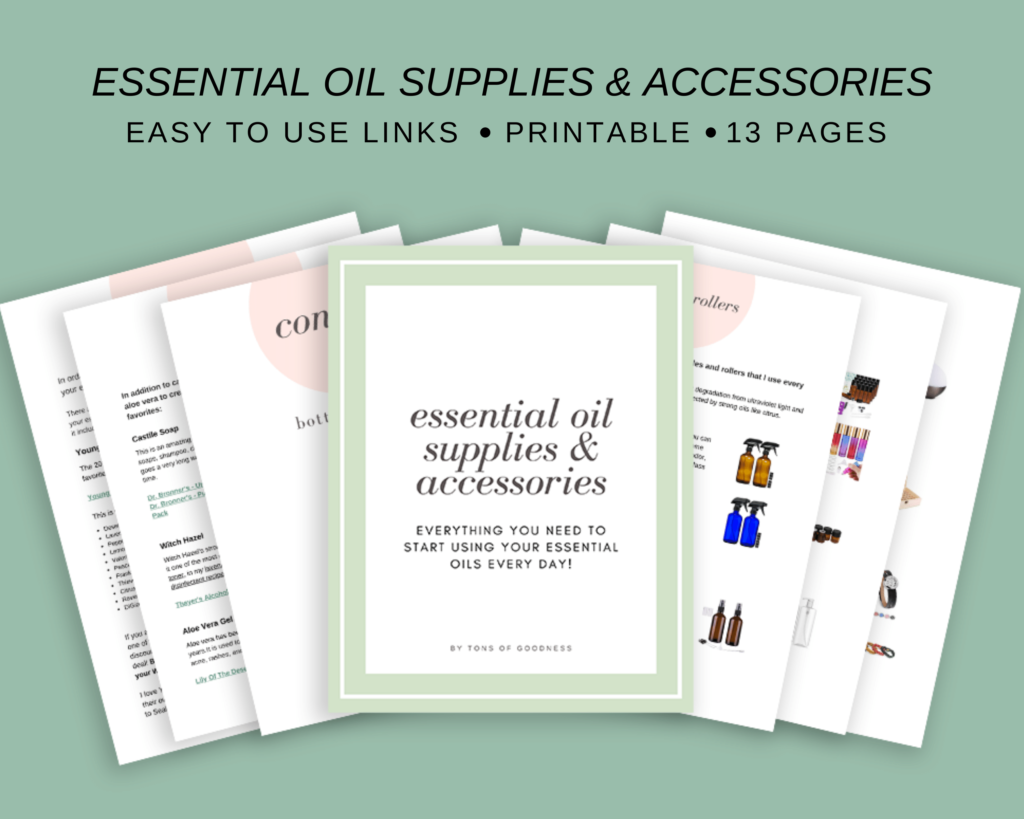 Other Tips to Prevent Bug Bites
Besides using a bug spray or repellant, there are other steps you can take to help protect yourself.
Avoid wearing scented lotions and perfumes outside.
Get rid of standing water in gutters, birdbaths, planters, pots, and wheelbarrows.
Keep any food or drinks covered.
Use a fan when sitting outside to keep the air circulating.
Wear lighter colors (dark colors attract mosquitoes).
* To stay safe, consult your healthcare provider about the most appropriate repellent for you and apply your repellent whenever you're outside in areas with known mosquito populations (especially during the hours between dusk and dawn).
Next Steps to Switch to All Natural Products
Are you thinking of switching to all natural products? Check out this guide to easily switch to all natural products for your home and personal use. Making the switch doesn't have to be expensive or complicated. And every single switch you make can truly have a big impact on your health and well-being.
More Essential Oil Recipes:
The Best Natural Carpet Cleaner Solution for Machines
DIY Moisturizing Foaming Hand Soap for Dry, Cracked Skin
The Best Essential Oils for a Cough
Make sure to Pin for later!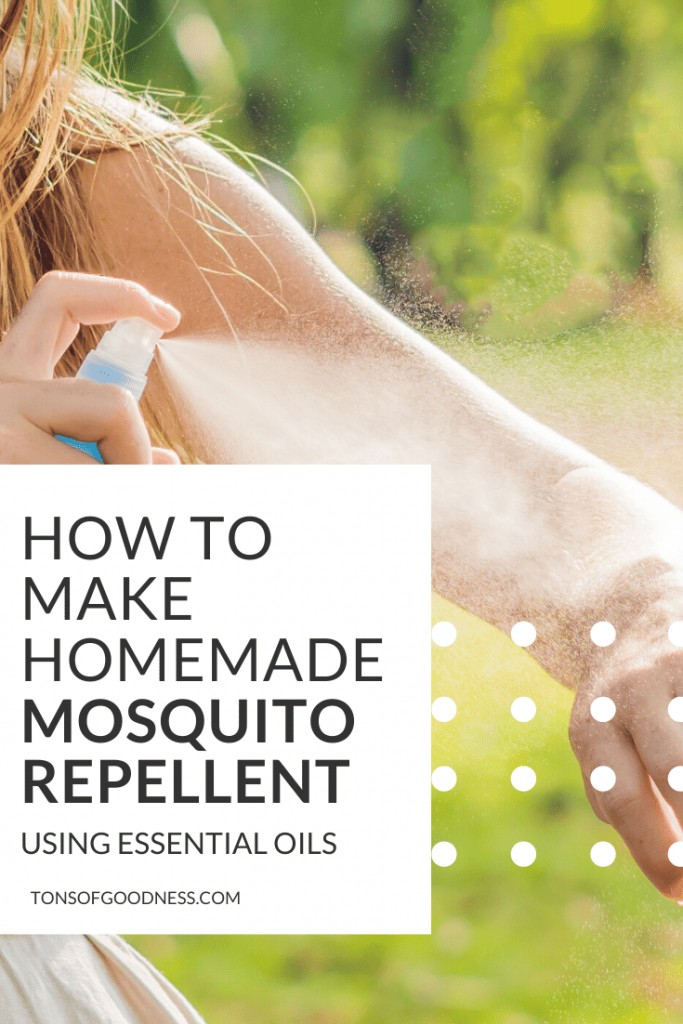 Mosquito Repellent Made with Essential Oils