DIY Moisturizing Foaming Hand Soap for Dry, Cracked Skin
Disclosure: Some of the links in this article are affiliate links, which means that if you purchase through those links I will receive a small commission. For example, as Amazon Associate, I earn from qualifying purchases. If you decide to use these links, thank you so much for your support!

---
Treat yourself with this moisturizing foaming hand soap to prevent and relieve dry, cracked skin.
In the past, I would dread winter because I knew that meant my hands would become extremely dry. They would be dry to the point that I would get cracks in my skin and bleed. It was embarrassing and painful.
Thankfully, I recently came across a way to make my own hand soap that prevents dry, cracked skin. And I feel good about my family using this foaming hand soap because it's made of all-natural ingredients.
I have now replaced all of our store-bought soap and I plan to use this year-round now that I know about the benefits of using homemade, natural soap.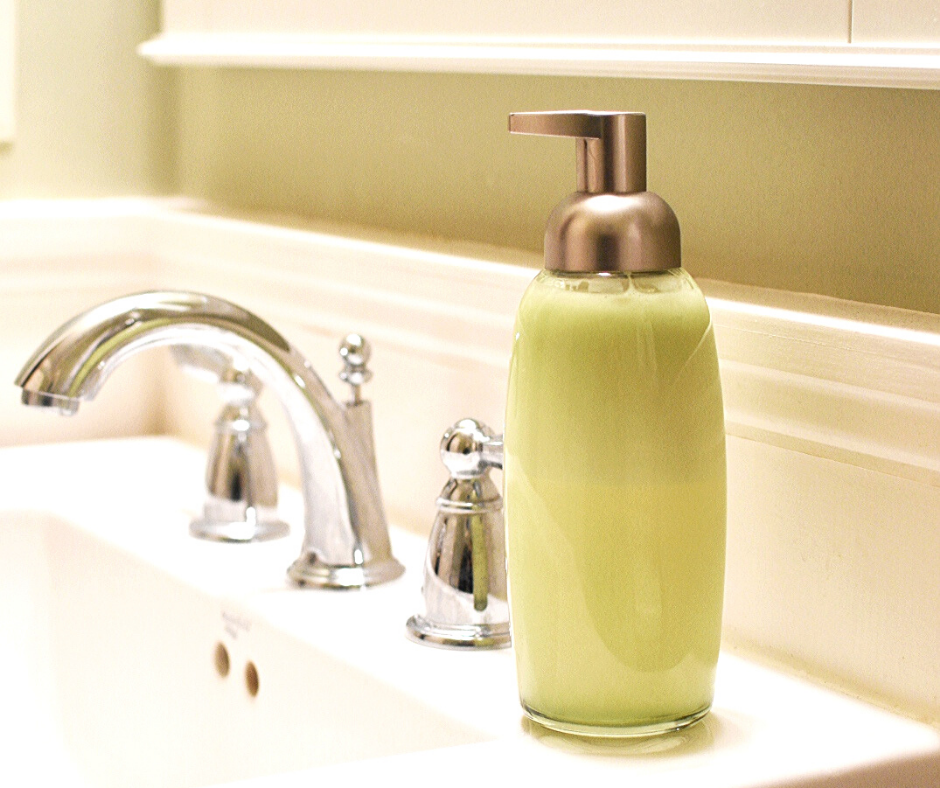 Why Should You Make Your Own Hand Soap?
Washing your hands with conventional liquid soap strips your hands of their natural oils. This is because conventional hand soap usually contains chemical detergents and fragrances that are awful skin irritants. This is a list of ingredients to avoid: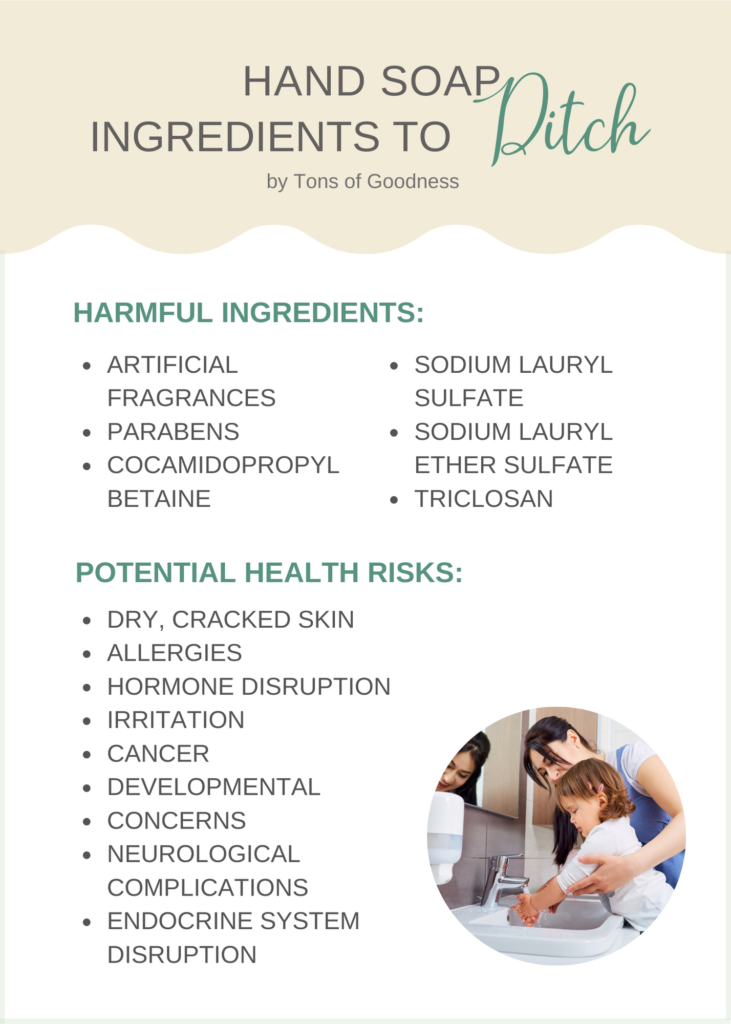 After learning about the ingredients that were potentially causing my dry, cracked skin I switched to a natural option that does not contain these ingredients. I noticed a difference immediately and tossed all of the hand soap that we had previously used.
There are some good natural options that you can buy at the store, but making your own is much less expensive. And you will be reusing your dispenser instead of tossing it each time you run out of soap.
Another benefit is that you can customize your hand soap by making it unscented or by adding in your favorite essential oils. Most hand soaps, even the natural options, contain "natural fragrances" that may irritate your skin. By making your own you know exactly what you are putting on your skin.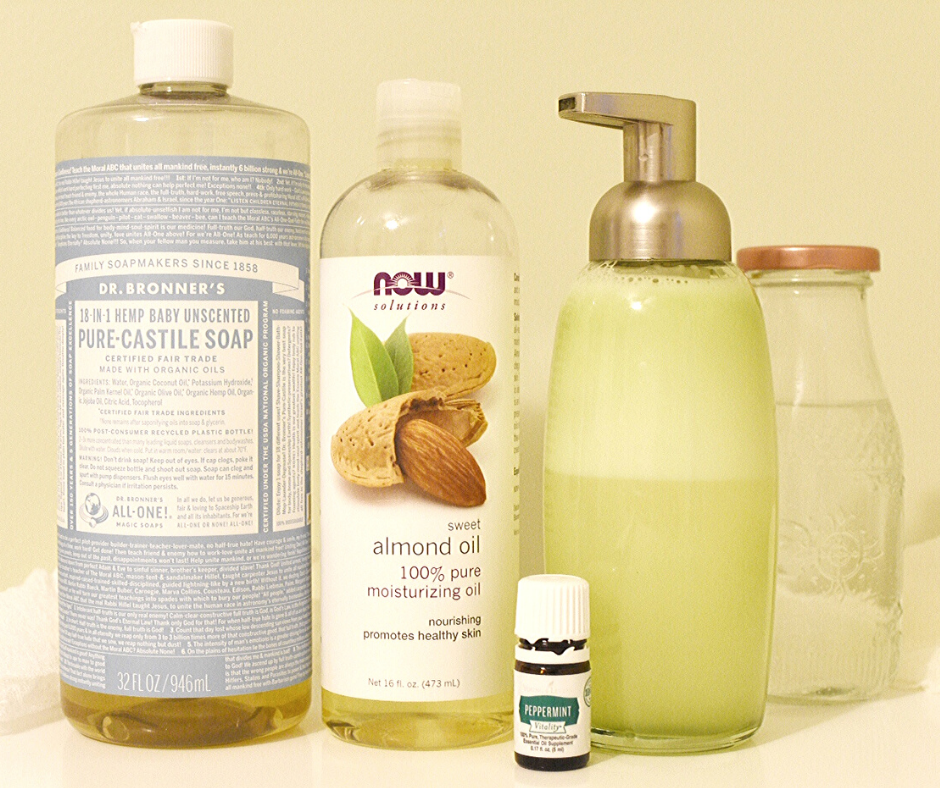 How to Make Your Own Moisturizing Foaming Hand Soap to Prevent and Relieve Dry, Cracked Skin
Supplies
You only need a few simple supplies. These include:
Make it!
Using a funnel pour Castile soap into your bottle until it is 1/4 full
Add almond oil and essential oils
Fill to the top with water
Gently shake to mix
I love using a foaming hand soap dispenser because it's easier for my daughter to get her hands soapy when washing.
I use sweet almond oil for this recipe because it helps to moisturize your skin without feeling heavy or greasy. It's a light oil, so it works well with the foaming hand soap dispenser. Almond oil has been used for thousands of years to soothe, soften, and repair skin.
You can use your favorite essential oil in this recipe. The essential oils that I like to use include:
Peppermint essential oil (my daughter loves this in the winter because it smells like a candy cane)
Thieves essential oil (a rich, spicy aroma that purifies)
Citrus Fresh (a great option for the kitchen)
Lavender essential oil
Vanilla essential oil
Make sure that you use quality oils like those from Young Living that are not compromised by added synthetics, contaminants, or cheap fillers. A great way to get started with essential oils is by purchasing a Young Living Starter Kit.
More DIY Recipes
DIY Lavender Vanilla Pillow Mist: Relax and Fall Asleep Fast
Forget Dryer Sheets, Try Alpaca Dryer Balls
DIY Natural Air Freshener & Disinfectant Spray
Natural Laundry Detergent: The Best DIY Recipe and Store Bought Options
Did you make this recipe and love it!? Let me know in the comments! I'd love to hear about your favorite essential oils too!
Next Steps to Switch to All Natural Products
Are you thinking of switching to all natural products? Check out this guide to easily switch to all natural products for your home and personal use. Making the switch doesn't have to be expensive or complicated. And every single switch you make can truly have a big impact on your health and well-being.