Christmas Essential Oil Blends that Will Get You in the Holiday Spirit
Disclosure: Some of the links in this article are affiliate links, which means that if you purchase through those links I will receive a small commission. For example, as Amazon Associate, I earn from qualifying purchases. If you decide to use these links, thank you so much for your support!

---
If you enjoy scents that remind you of Christmas trees, gingerbread, and candy canes then you are going to love bringing these Christmas essential oil blends into your home.
In this guide, you will find a list of the perfect essential oil blends for Christmas and easy ways to use them in your home. You will also find a free printable to keep your recipes handy for when you want to get into the Christmas spirit.
I couldn't agree more that, "The smells of Christmas are the smells of childhood". Christmas smells evoke nostalgia of baking and decorating cookies with my Mom, picking out the perfect Christmas tree each year, and wrapping presents while singing carols. It really is a wondrous time of year like no other. My hope is that these scents bring you a bit of Christmas spirit this year.
The Best Christmas Essential Oil Blends
These are by far my favorite essential oils for the Holidays. Some have a wonderful pine scent while others will remind you of warm cider. And don't forget the amazing scents of candy canes and gingerbread!
Candy Cane
Peppermint
Spearmint
Vanilla
---
Warm Spiced Cider
Cinnamon
Cardamom
Orange Sweet
---
Winter Wreath
Balsam Fir
Cedarwood
Spearmint
---
Gingerbread
Ginger
Cinnamon
Nutmeg
Vanilla
---
Cozy Days
Orange Sweet
Black Spruce
Cinnamon
---
---
Free Printable Card
Click the image below to print your Happy Holidays essential oil blends card! You will love having these recipes on hand to enjoy these blends throughout the season.
---
Ready-Made Essential Oil Blends
If you don't have many essential oils on hand, or just like the convenience of ready-made blends, I have found some amazing options for the Christmas Season from Plant Therapy!
You can purchase the entire collection in the six-blend set All Bundled Up. Or choose your three favorite blends to build your own set and save 10%. Use code WINTER3SET to get the discount as well as a white set box with a Winter Magic Set Sleeve.
The Holiday Blends include: Candy Cane, Christmas Tree, Gingerbread, Holly Berry, Sugar Plum, and Winter Wreath.
I recommend Plant Therapy essential oils because they are high-quality and affordable. Every bottle of Plant Therapy essential oil goes through rigorous testing, meaning that you can trust that what they claim is in their essential oils actually is.
You will also get FREE SHIPPING & RETURNS and points for every purchase when you sign up for the free Rewards Program.
---
How to Use Your Christmas Essential Oil Blends
The perfect way to use these essential oil blends is to use a diffuser. This will slowly diffuse the Holiday scents throughout your home. The best diffuser I have found is the 5 in 1 Ultrasonic Essential Oil Diffuser. It features a large and easy to clean water tank and can run for up to 16 hours!
You could also add a few drops to an arrangement of pine cones or clay ornaments to add fragrance to your home. Or add the essential oils to a personal inhaler or diffuser bracelet to take the wonderful Holiday scents everywhere you go!
I also love using these essential oil blends in a DIY Room Spray. It's so easy to put together and makes a great gift too! Follow this simple recipe using your favorite Christmas essential oil blend:
DIY Room Spray Using Essential Oils
This natural room spray using essential oils will make your home smell amazing!
Ingredients
Instructions
Pour witch hazel into the bottle.

Add your essential oils and put on the lid. Shake well.

Add 3 ounces of water. Put the lid back on and shake well again.
Recipe Notes
You can use witch hazel or another clear alcohol of choice (vodka works well). The witch hazel or alcohol helps to mix the essential oils into the solution (since water and oil don't mix). It also helps to disperse the mixture into the air.
Wrapping it Up
I hope you enjoy these Christmas essential oils!
What are your favorites? Let me know in the comments!
Even more essential oil recipes:
The Best Essential Oils for a Cough
DIY Lavender Vanilla Pillow Mist: Relax and Fall Asleep Fast
Natural Laundry Detergent: The Best DIY Recipe and Store Bought Options
---
Supplies and Accessories to Make and Use Your Natural Products
When I first started using essential oils I felt completely lost and frustrated when trying to figure out where to find the various essential oil supplies and accessories that I needed.
I spent so much time to find the best bottles, carrier oils, and everything else that I needed to use my essential oils daily. So, I have created a guide of supplies that I have purchased and love.
This guide is an easy go-to reference guide so that you have the supplies and accessories all in one place for the next time you need to make a purchase for your essential oil DIY's.
Enter your name and email address below and this FREE PDF guide will be sent to your inbox!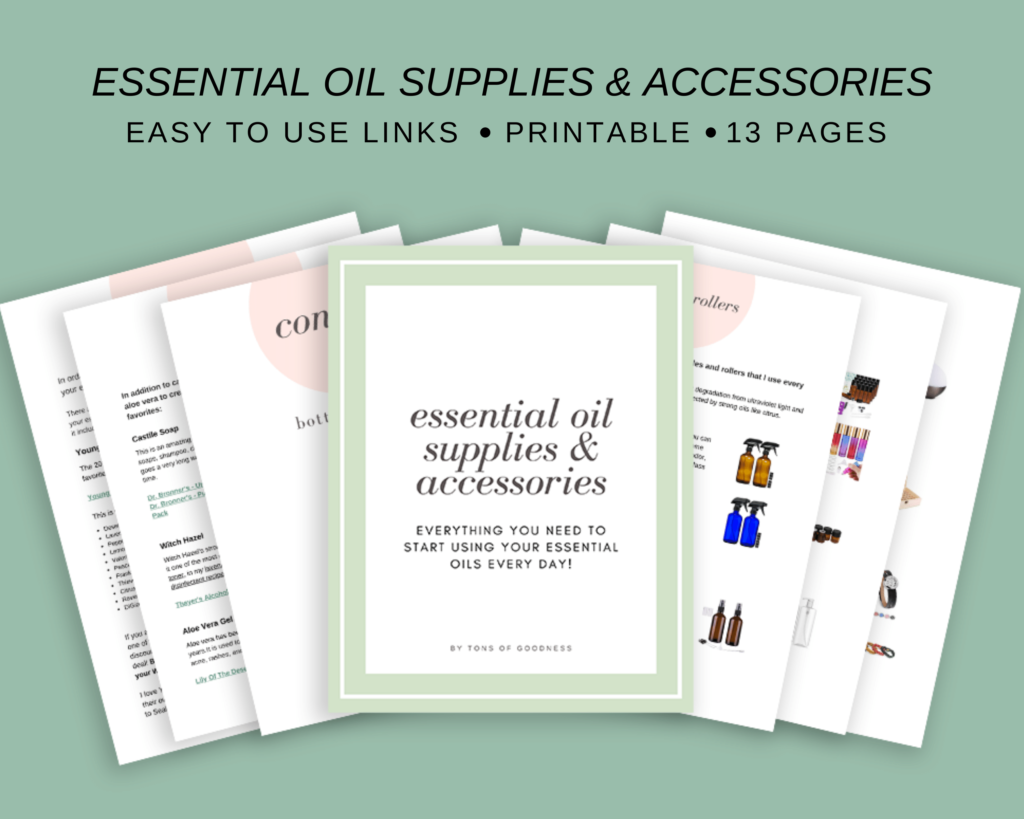 ---
Are you thinking of switching to all natural products? Check out this guide to easily switch to all natural products for your home and personal use. Making the switch doesn't have to be expensive or complicated. And every single switch you make can truly have a big impact on your health and well-being.