Elderberry Syrup Vs. Bone Broth: Which is the Best Food to Boost Your Immunity?
Disclosure: Some of the links in this article are affiliate links, which means that if you purchase through those links I will receive a small commission. For example, as Amazon Associate, I earn from qualifying purchases. If you decide to use these links, thank you so much for your support!

---
Wouldn't it be great if you could get through cold and flu season without getting sick?
Yes! Well it's cold and flu season here in Ohio. So, I have been thinking about ways to build up my family's immune system. Because no one wants to be sick during the Holidays!
What I've been doing is diffusing purifying essential oils and sipping on bone broth. We all know that bone broth is the go-to choice when you need an immune system boost. However, I have been hearing a lot about elderberry syrup lately. So, I thought I would find out if it lives up to it's hype and give it a try.
Ultimately, I was wondering, which is the best food to boost your immunity? Elderberry syrup or bone broth?
What are Elderberries?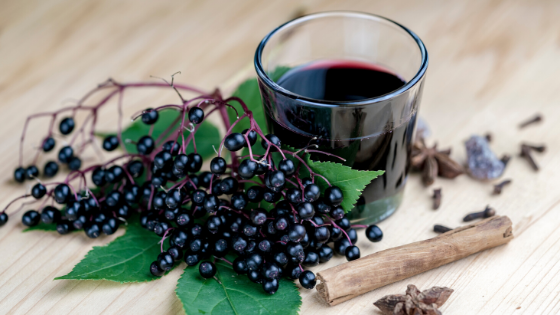 Elderberries are dark violet berries that grow in clusters. They have been used for centuries as food and to make natural medicines. Elderberries are tart, similar to a cranberry, and are usually sweetened.
They can be used as a supplement in the form of syrup, a capsule, or as gummies made from syrup.
How Do Elderberries Boost Your Immunity?
Elderberries get their dark, violet color from anthocyanins. Anthocyanin is an antioxidant that works by clearing the body of free radicals. It also has antiviral properties that may prevent or reduce the severity of common infections.
Elderberries also contain a variety of vitamins (A, B1, B2, B6, B9, C and E). They also contain trace elements (Cu, Zn, Fe), and minerals (K, Ca and Mg) (source).
Before purchasing elderberry syrup, I found that there are several studies that show that elderberries have significant benefits. For example:
What this all means is that elderberry syrup is a potent food that can help to boost your immunity.
How to Purchase Elderberry Syrup
Overall, elderberry syrup is a great supplement to boost your immune system. So how do you find a quality product?
Look for an elderberry syrup or supplement that has minimal ingredients. This will make certain that you get the full benefits from the elderberries themselves. This also ensures that you are paying for a quality product without added fillers.
In addition, Amy Marcum, Founder of Remy's Homemade Elderberry, recommends that you look for a syrup that is made of all natural, organic ingredients. Organic elderberries are grown without the use of toxic pesticides, fungicides, or herbicides.
My family just started using syrup from Remy's Homemade Elderberry, LLC located in Waynesville, Ohio. I love that it contains a blend of spices with raw honey that adds to the health and wellness benefits.
If possible, purchase your elderberry syrup locally so that you know it is fresh. However, if this is not an option then RD Naturals (amazon link) is a great choice as well as Nature's Way Sambucus Elderberry Gummies (amazon link).
Some doctors recommend avoiding elderberries if you're pregnant or breastfeeding. So, talk to your health care practitioner before taking an elderberry supplement if you're an expectant or new mom.
Is Bone Broth a Food that Can Boost Your Immunity?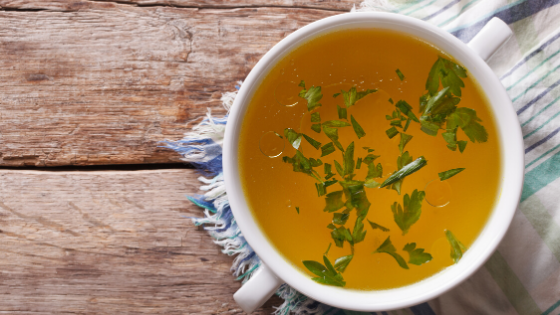 So, what about bone broth as a food to boost your immunity? Broth has always been considered a healing food. I remember as a kid always eating chicken soup when I was home sick with a cold.
However, there are very few studies that demonstrate the specific health properties of bone broth.
What the research does show is that bone broth may help when you have a cold in two ways. By clearing nasal congestion and reducing symptoms of upper respiratory tract infection (source). Yet, the researchers of this study couldn't identify the exact ingredient in the soup that made it effective against colds. The soup used in the study contained chicken, onions, sweet potatoes, parsnips, turnips, carrots, celery stems, parsley, salt and pepper.
Bone broth also contains all five of the major electrolytes, which can help you to stay hydrated and relieve congestion. In addition, bone broth contains several nutrients, gelatin, and collagen. These can help you to boost your immune system and fight off an infection.
While bone broth may not be as powerful as elderberries for fighting bacteria and influenza viruses, it still is a great addition to your diet due to it's nutrient dense properties. And it can help to alleviate some of your symptoms when you're not feeling well.
How to Purchase Bone Broth
Look for broth that is organic and made from pasture-raised animals or wild-caught fish.
Kettle & Fire is a good option for packaged, organic broth. They use bones of organic, pasture-raised animals along with organic vegetables, sea salt, and herbs.
Another option is to make your own. It's easy-and much cheaper-to make your own bone broth in an instant pot. I use this recipe from Chartered Wellness and it tastes great every time!
The Winner Is…
Elderberry syrup and bone broth each have their own unique health benefits. But, elderberry syrup is the winner when it comes to the best food to boost your immunity.
Have you tried elderberry syrup? Would you try it after reading this post? Let me know in the comments!

*Please note that the information in this blog post should not be used to diagnose, treat, prevent or cure any disease or condition. This information is not a substitute for medical advice from your health care professional. For more details see my medical disclaimer here.